Welcome to FitRec Swim School at BU
Registration for Spring 2019 Session II: now open!
Give your infant or toddler a head start in the lifelong benefits and pleasures of swimming. Or encourage children up to age 19 to develop greater skill, power, and endurance in the water. FitRec has two outstanding pools to accommodate every age and experience level. The Recreational Pool offers a warm, shallow teaching area that's just right for infants and beginners. And our state-of-the-art Competition Pool gives more advanced swimmers and divers a space they can't outgrow.
Preschoolers 3 years and up learn the basics in small classes with lots of personal attention. Older children and teens can build swimming skills, strength, and confidence.
FitRec Swim School Flow Chart of Levels
Children's Swim and Dive Level Descriptions
Pre-Swim Team

Pre-Swim Team provides an opportunity for young swimmers to improve technique and build endurance in preparation for competitive swimming. Students will focus on improving technique for the four competitive strokes while practicing flip turns, starts, and racing skills. Team work, goal setting, and good sportsmanship will be emphasized.
Learn More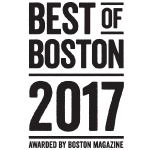 Best of Boston - Swim Lessons
FitRec Swim School has been awarded Boston magazine's Best of Boston® 2017 – Best Swim Lesson. Come see what everyone is raving about and enroll your child in a swim class today!
Register Now
Private Swimming Lessons
 Choose one-on-one coaching or semi-private lessons for two or three children. We schedule private sessions for parents and tots, children up to age 16, and adults or children with special needs.
Learn More