Full-time faculty
Director of Dance, Instructor of Modern Dance, Dance History, and Dance Aesthetics
Adjunct Faculty in the College of Fine Arts
Advisor for dance minors and coordinator of the summer outreach program for teens
BS with honors in Physical Education with Dance Concentration, University of Massachusetts, Amherst
MFA in Dance, University of North Carolina, Greensboro
Micki joined the Dance Collective in 1986 and was artistic director from 1998 to 2006. Her work has been commissioned by the musical ensembles Alea III and the Brookline Chorus. She is coauthor of a how-to manual for teaching dance to children, a product of a teacher-training grant in the Boston Public Schools. She served as officer and board member of Boston Dance Alliance for eight years and is now artistic director of Mass Movement, Inc., which brings dance education to schools and after-school programs through Young Audiences of Massachusetts.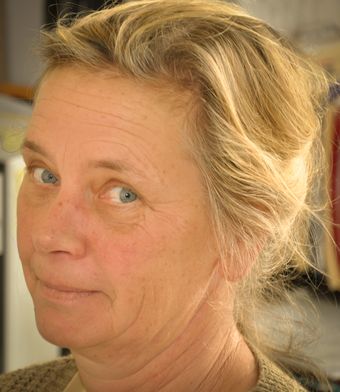 Theatre Manager/Assistant Coordinator of Dance
Graduate of Bard College
Lynda has over 25 years of experience as a production/stage manager and lighting designer in the field of dance, having worked and toured primarily with San Francisco–based companies, including the Oberlin Dance Collective, CONTRABAND, the Dance Brigade, Theater Artaud, and Joe Goode Performance Group. Currently she collaborates with Kairos Dance, Margot Parsons and Cambridge Youth Dance Program designing lights, sets, and rigging. Her love for aerial dance began at Bard College, where she created many dances using rope and cloth. In 1979 she moved to the San Francisco Bay Area to study low-flying trapeze with Terry Sendgreff. She and Joanna Haigood founded Zaccho Dance Theater (1980), which incorporated many aerial components into the company's site-specific work.