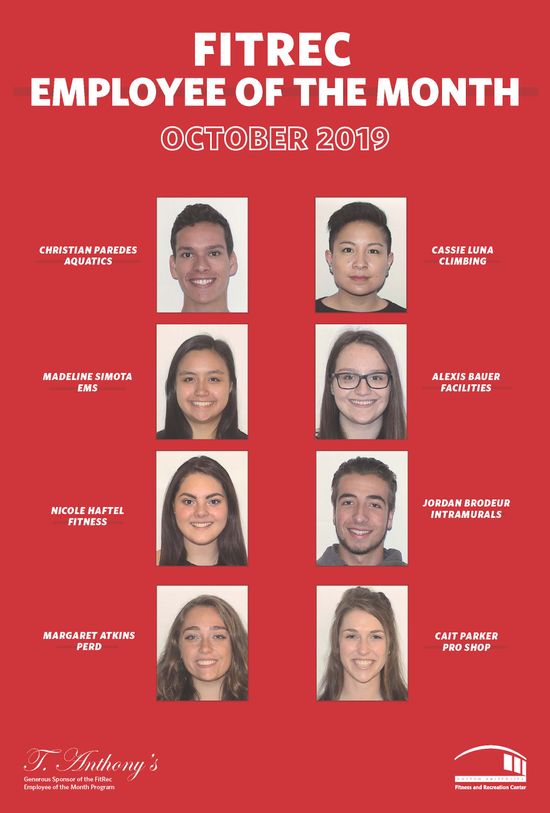 We are pleased to announce the October 2019 Employees of the Month!
Our student employees play a big part in making sure that your experiences at FitRec are nothing short of amazing. It's certainly not easy balancing work and school, but our students make it look easy! We appreciate all of the hard work they put in and their great attitudes. Each month, full-time staff members from various departments nominate student workers who have shown exemplary work ethic within the past month. The winners for this month will receive gift bags, which include T-Anthony's gift certificates and FitRec swag. If you see the winners around FitRec (or anywhere else on campus!), make sure to congratulate them!
Aquatics: Christian Paredes
Christian has done an amazing job on Sundays helping to ensure the pool is ready and open on time, as well as supporting all of the other lifeguards working. When small problems arise, Christian is always there to solve them.
Climbing: Cassie Luna
Cassie is a role model for climbing students and for co-workers at the climbing wall. Cassie always shows a high level of professionalism and is an excellent instructor. In addition to instructing, Cassie has recently joined our routesetting team and is continually growing and refining their skill set.
EMS: Madeline Simota
Madeline has consistently demonstrated excellent patient assessment and treatment skills, and her documentation of these calls is nothing short of exemplary. Madeline has also been incredibly helpful in regards to taking shifts, and she received fantastic reviews from all the new EMTs she supervised as a field training officer. Keep up the awesome work, Madeline!
Facilities: Alexis Bauer
Alexis has become very knowledgeable about the tasks of the job and has really stepped up this year. Between taking it upon herself to train students for skate shifts at Walter Brown, to always picking up shifts and being one of our most reliable employees, she truly deserves this nomination.
Fitness: Nicole Haftel
Nicole has been working for us since the summer and has distinguished herself throughout that time as a hard worker, and someone who can be counted on to complete her tasks effectively and quickly. Although she has not worked for us for long, we have utilized her to train new hires, as she is one of the more mature and competent leaders we have on staff. We look forward to working with her throughout her last year here at BU.
Intramurals: Jordan Brodeur
Jordan has been one of our recent promotions to the supervisor position. His passion, love, and drive for Intramuals is reflective both on and off the court. He has great work ethic and is the epitome of the ideal official. He is a great mentor for all of our young officials and our veterans as well. Congrats, Jordan! Here is to many more great semesters.
PERD (Admin): Margaret "Maggie" Atkins
Maggie is one of the best employees we have at FitRec. She is knowledgeable, hardworking and engaging. She embodies everything we're looking for in our customer service staff. She is invaluable when it comes to supporting this office and she always does so with a smile. We've been lucky to have such a passionate and committed student for 4 years and are proud to name her our Employee of the Month.
Pro Shop: Caitriona "Cait" Parker
Cait has worked with us since her freshman year while excelling on the rowing team at BU. Her coworkers say she is always a pleasure to work with. She is always adding shifts and helping out however she can! Customers and coworkers alike appreciate Cait's great personality and positive attitude.