Announcing Dr. Gergen Barnett as Vice Chair in Family Medicine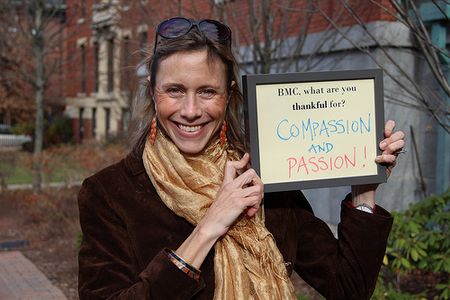 It is with great pleasure that I announce that Katherine Gergen Barnett MD has been named the Department of Family Medicine's new Vice Chair for Primary Care Innovation and Transformation.  In her new role, Dr. Gergen Barnett will oversee Family Medicine practice transformation initiatives in the department. She will lead the department's quality improvement efforts, bring vigor and innovation skills to the Patient-Centered Medical Home movement, spearhead patient experience initiatives, and provide support and guidance to our ACC practice.
Dr. Gergen Barnett is an Assistant Professor in the Department of Family Medicine where she provides family medicine primary care services in our ACC practice. Originally from Washington, D.C. Katherine attended Yale University School of Medicine and completed the BU Family Medicine Residency Program. During residency Katherine successfully implemented Centering Pregnancy, served as chief resident, received the AAFP Award for Excellence in Graduate Medical Education, and was awarded the Family Medicine Resident Award for Scholarship. Since her appointment in 2009, as Director of Integrative Medicine Clinical Services, Katherine pioneered a model for delivering integrative medicine in the safety net setting, creating a program that provides BMC and CHC patients with an array of integrative medicine services. She served as co-investigator on a grant to study a new model of care called the integrative medicine group visit for patients with chronic pain and depression. She is currently a co-investigator in a three year PCORI grant to study the efficacy of this model in the community. She also has been a co-investigator for other grants studying preventive medicine and yoga. Katherine directs the "Healer's Art" elective for medical students, serves on the Faculty Practice Foundation's Professional Development committee, and teaches residents. Dr. Gergen Barnett's primary interests are health care redesign, social determinants of health, nutrition, stress reduction, women's health, and group care.
I am thrilled to have Dr. Gergen Barnett join our leadership team starting January 2016. Please join me in congratulating her on the new role.
Dr. Gergen Barnett will join our two other Vice Chairs, Dr. Christopher Manasseh and Dr. Charles Williams, in overseeing key department functions.
Manasseh, as Vice Chair for Inpatient Services, continues to oversee our Hospitalist Service, Maternal Child Health Service and Nursing Home service;
Williams will continue in the role as Vice Chair for Network Developmentoverseeing our off-campus practices, credentialing, scheduling, and chair the department compensation committee. Dr. Williams also serves as Boston HealthNet's medical director.
I look forward to working with the Vice Chairs to keep the department on the cutting edge of Family Medicine and improving the health of the people we serve and their communities.
Brian Jack MD
Professor, Department of Family Medicine
Chief, Boston Medical Center
Chair, Boston University School of Medicine
Dowling 5
1 BMC Place
Boston Massachusetts 02118
Office 617-414-4465
Direct Office 617-414-5956