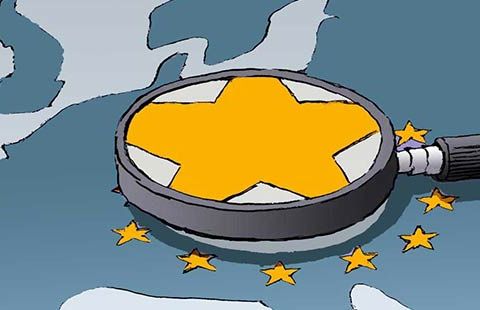 The Center for the Study of Europe has been awarded a grant of 75,000 euros by the European Union Commission Delegation for a public lecture series featuring European artists, writers, public intellectuals, and ambassadors.
Our project—Getting to Know Europe: The EU Inside Out—explores the prospects for democratic politics in Europe against the backdrop of the profound transformations taking place on the continent in response to the global financial meltdown and the crisis it has unleashed in the Eurozone. It does so from two vantage points: from the "center," through a series of debates with European ambassadors, and from the "edges," through a series of conversations with European artists and writers, intellectuals and activists, and a European Voices literary festival. Our focus, as the idiom in the project title implies, is on the transformations occurring in the "constitution" of the European Union and its citizenry.
The project, which targets a broad general audience, has four components: 1. "The EU Inside Out," a series of public debates with European ambassadors, moderated by Alan Berger, retired editorial writer for international affairs at the Boston Globe; 2. "European Voices," a series of conversations with prominent European artists and writers, activists and intellectuals; 3. "European Voices Festival," a literary and cultural celebration featuring emerging artists and writers, taking place at the Goethe Institute on May 10, 2014; and 4. a revamped website showcasing our European Commission-sponsored projects along with our other activities.
Our goal is to launch a longer-term conversation with both "official" and "unofficial" representatives of the European Union around global challenges to democratic ideas and institutions in which the value of the EU as a model for transnational cooperation, regional integration, and cultural coexistence is highlighted. We look also at some of the difficulties Europe is facing in responding to global challenges, brought to light by the "crisis." Finally, we explore what is being done, in particular in response to the crisis, to reanimate the idea of Europe and to revitalize democracy in the European context. Our working hypothesis is that Europe's crisis, however seemingly unremitting, marks not an end, but as the Greek root would imply, a turning point for Europe, and for European democracy.
See All Projects