Event Highlights: European Studies Faculty Lunch Talks
During the fall of 2013, the Center for the Study of Europe launched a series of faculty lunch talks as a way of facilitating conversation across disciplines and creating community among European Studies faculty and graduate students.
On Tuesday, September 17, Alya Guseva, Associate Professor of Sociology, gave the first talk on the subject of her forthcoming book, co-authored with Akos Rona-Tas from the University of California, San Diego: Plastic Money: The Construction of Markets for Credit Cards in Eight Post-communist Countries. In the United States, she said, we take our ability to pay with plastic for granted. In other parts of the world, however, the establishment of a "credit-card economy" has not been easy. In her talk, she described how markets for credit cards were constructed during the transition from communism to capitalism in Eastern Europe and in Russia and the hurdles faced by bankers, merchants, and consumers. Marc Rysman, Professor of Economics, responded.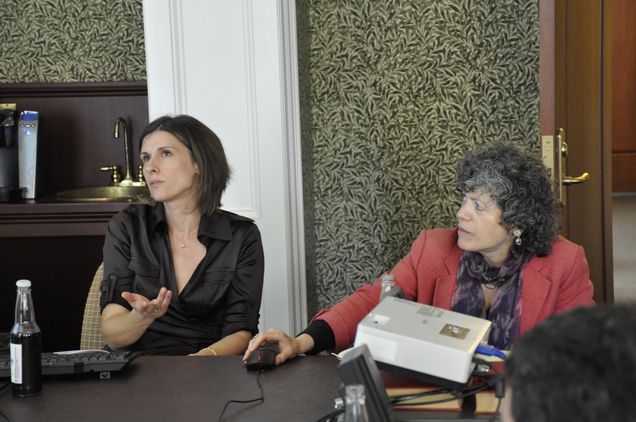 The next presentation, on Tuesday, October 1, was given by journalist and historian Peter Rand, a senior lecturer in COM's Writing Program, who joined us to talk about his book, Conspiracy of One: Tyler Kent's Secret Plot against FDR, Churchill, and the Allied War Effort. Rand began by discussing how he came to tell the story of Tyler Kent, whom he became aware of over lunch one day with Dr. Howard Gotlieb, founder of the Howard Gotlieb Archival Research Center, who had acquired Kent's papers, including move than fifty letters penned to him in prison by his lover Irene Danischewsky. It was Irene's letters, Rand said, that inspired him to tell Kent's story from boy misfit to code clerk and spy. A lively discussion ensued as Rand responded to questions relating the story of would-be whistle blower Tyler Kent to the case of Edward Snowden and others. Joseph Wippl, Professor of International Relations, responded.
On Tuesday, October 22, ethnographer and gastronomist Rachel Eden Black, Assistant Professor and coordinator of Boston University's MLA program in gastronomy, presented her research on the "mères lyonnaises," a group of women in Lyon, France who between 1930 and 1970 reached the pinnacles of French professional cuisine, a world largely dominated by men, in a talk entitled Cuisine des mères: Heritage, gender and the construction of culinary culture. Employing both ethnographic and historical methods, she discussed the gender shifts that occurred in the construction of a national French culture in the twentieth century, in this case in the form of cuisine. Black's research opens a window onto the changing place of women in French society in the interwar and postwar years. She draws out the gendered discourses embedded in recipes, memoirs and oral histories of the mères in order to produce an alternative social and cultural narrative and to write women back into contemporary French culinary and cultural history. Carole Counihan, Professor Emerita of Anthropology at Millersville University in Pennsylvania and author of The Anthropology of Food and Body: Gender, Meaning, and Power (Routledge, 1999) and other noteworthy titles, responded.
Finally, on Tuesday, November 12, Joseph Rezek, Assistant Professor of English and a member of the Center's Executive Board, joined us for a presentation entitled The London Book Trade and the Making of Irish, Scottish, and American Literature. Rezek discussed his current book project, The Aesthetics of Provinciality, in which he argues that modern aesthetic theory was shaped by the success of Irish, Scottish, and American authors who triumphed in the London book trade, including Maria Edgeworth, Walter Scott, Washington Irving, and James Fenimore Cooper. Such authors, faced with London's dominance of the marketplace, developed two lasting and contradictory notions about literary expression: on the one hand, that it transcends nationality and inhabits an autonomous sphere of culture and, on the other, that it reveals deep and essential truths about an author's native land. Mary Sarah Bilder, Professor of Law, Boston College, responded.