Alumni Profiles
Neladri, General Dynamics Mission Systems, Software Engineer
Master's program: Electrical Engineering, specializing in Image/Video processing, Undergraduate Major: Biology & Chemistry
Neladri is an embedded software engineer at General Dynamics Mission System. He entered Boston University's Late Entry Accelerated Program with a Bachelor of Science in biology and chemistry from Brandeis University in 2012. His focus during his Master's degree was on signal and image processing. In January 2017, Neladri graduated with a Master of Science in Electrical Engineering with Engineering Practice.
While he was in the LEAP program, Neladri had four internships, around the country. Living and working in Dallas, TX, Chicago, IL, and Washington, DC, he was exposured to industries from telecommunications to defense.
Bradley, GE Aviation, Data Systems Lead Engineer
Master's program: Mechanical Engineering, Undergraduate Major: Economics
Brad joined GE Aviation in the summer of 2011 as an intern in the Engine Systems group supporting numerous cost improvement initiatives for the F414 and F404 product lines.  After finishing his Master's Degree, Brad joined the TF/TJ Performance Group in August of 2012.  In  this role he focused on engine test and cycle model development, supporting numerous production and development programs.
In 2017, Brad transitioned to a Lead Software Engineer in the Lynn Data Systems Group.  In this role he owns and develops the software that collects and processes engine data from all Lynn test cells.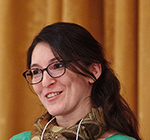 Eliana, Smith & Nephew Endoscopy, Manufacturing Engineer
Master's program: Mechanical Engineering, Undergraduate Major: Political Theory
 After graduating with a degree in political theory, Eliana pursued several other avenues of employment (finance, law, etc.) before returning to school for engineering. Currently, Eliana is a project manager with Smith & Nephew. Eliana joined their rotational program where she spent six months working as a manufacturing engineer in each value stream at the Mansfield facility; in my final rotation,Eliana worked as the second shift supervisor in a new clean room.
After graduating from the program,Eliana took a role as a project engineer working on large transfer programs and managing two recently hired project engineers. She then received the opportunity to move to the Global Process Optimization group as a project manager. In this role, Eliana manages and supports multi-site, global projects.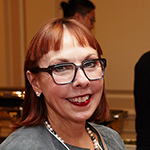 Janice, Through My Eyes Media, Founder
Master's program: Electrical Engineering,Undergraduate Major: Art History & Arts Administration
Janice started her career in art and art history, but after working at the Boston MFA and doing art conservation, she developed a love for science and technology.  Then she discovered LEAP.   As a result, Janice has spent the majority of her career in the high tech world, from design engineering at large corporations to now starting her own companies.  Janice lived places that she never dreamed of and experienced things beyond her imagination.  Now she is in the midst of starting a new company (her third start up), Through My Eyes Media, that combines several of her passions…art, technology, and social media.  Without the education, training and experience from BU and the LEAP program none of this would have been possible!
Read the BU ENGineer magazine article about Janice.
Drew, MITRE, Software Engineer
Master's program: Electrical & Computer Engineering, 2016 , Undergraduate Major: Philosophy
Drew currently helps drive healthcare and cybersecurity innovation at MITRE – a not-for-profit research and development company. Drew recently received a Master of Science degree in Computer Engineering specializing in software from Boston University. He has a special interest in software and network security, lower level languages, DevOps, and systems automation.
Mike Reavey, MITRE, Infrastructure Engineer
Master's program: Computer Engineering, Undergraduate Major: Music
Michael began his technical career by enrolling in the LEAP program at Boston University, a program designed for career-changers transitioning into engineering fields.  Michael started academic work at BU in 2013, graduating with a master's degree in Computer Engineering in 2015.  During his studies, he interned at KPMG, analyzing data in support of a large-scale software test effort.  Following graduation, Michael began work at the MITRE Corporation as an Infrastructure Engineer, supporting teams validating networking and security platforms for federal government sponsors.  His work has included examining the implications of client certificates on SSL decryption, recommending application delivery options in Virtual Desktop Infrastructure deployments, evaluating passive optical networking and port-based authentication, and integrating unified communications in enterprise deployments.
Prior to becoming an engineer, Michael worked in music education and performance.  A trumpet player by training, he attended the Oberlin Conservatory of Music and currently performs with The Chicken Slacks, Boston's hardest working funk, soul, and r+b band.