SE Alumni Spotlight
Jing Zhang, SE PhD, 2017, Research Scientist, Mitsubishi Electric Research Laboratories (MERL)
"I am working as a Research Scientist in the Data Analytics group at MERL. The focus of our research is on innovative high-performance algorithms that can be applied to various product lines of Mitsubishi Electric, including electrical power systems, various transportation systems, heating, ventilation, and air conditioning systems and solutions, and factory automation. The application of these algorithms minimizes costs, maximizes profits, increases reliability, improves energy efficiency, and reduces environmental impact of products.
During my PhD study at BU, I worked on detection and optimization problems with applications in smart cities, under the guidance of Professor Yannis Paschalidis, who taught me to conduct research work on practical and interesting problems for social good. I also benefited a lot from collaborative work with Professor Christos Cassandras. My research experiences at BU are irreplaceable for my current and future endeavors."
---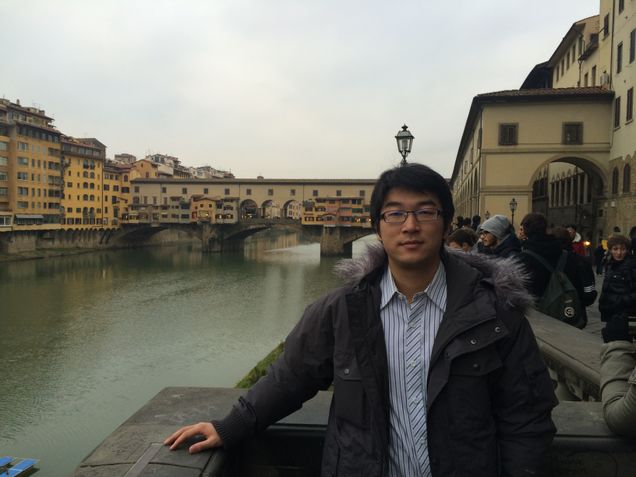 Qi Zhao, SE PhD, 2016, Optimization Research Scientist, 84.51°
"I am working as an optimization research scientist at 84.51°, a leading consumer science company which helps retailers create sustainable growth by innovative data analytics. I focus on developing the mathematical models to optimize the price and promotion decisions for the supermarket, and on building the software prototypes for the mathematical models.
I truly appreciate my entire PhD experience at BU and the guidance from Professor Paschalidis. I developed the scientific methods to identify, analyze and solve real problems in different areas. My PhD study was crucial to enable me to work and to grow in my current position."
---
Wei Si, SE PhD, 2016, Software Development Engineer, Amazon Web Services
"I am currently working as a Software Development Engineer at Amazon Web Services. Our team develops packet processing software for the cloud and utilizes technologies from Software Defined Networks, system building and hardware optimization. During the PhD program of BU Systems Engineering, I was working on development and performance evaluation of intra-vehicular wireless sensor networks, under the guidance of Professor Starobinski and Professor Trachtenberg. Through the research projects, I gained a lot of system design skills and hands-on experience, which significantly stimulated my career. At SE, I also learned a lot from various courses, talks, workshops, and discussions with our professors, which broadened my vision and deepened my knowledge. I would like to thank SE for giving me this invaluable experience, and to thank my advisors, Professor Starobinski and Professor Trachtenberg, for their patient tutoring and foer sharing their knowledge and wisdom in the process."
---
Mohammad Moghadasi, SE PhD 2015, Senior Optimization Engineer, Nomis Solutions Inc.
"I am working as an Optimization Engineer at Nomis Solutions Inc., a financial analytics company based in San Francisco Bay Area that combines cutting-edge approaches to big data, advanced modeling, and deep analytics to help large and medium-sized retail banks better understand their customers and manage their portfolios. I am responsible to lead the design and development of analytical initiatives to support and enhance the Nomis price optimization engine. This product enables simulation, forecasting, stress testing, and price optimization of deposit and lending portfolios, and translates business goals into tactical actions. My job also includes research and development of statistical modeling and analytics solutions in order to put forward-looking insights and data-driven decision making into the hands of our customers.
During my PhD program at BU, I was honored to be supervised by Professor Yannis Paschalidis at the Network Optimization and Control Lab. Working with him was a tremendously rewarding experience, helping me grow professionally and individually. His enlightening mentorship along with his wide knowledge of optimization methodologies and his extensive experience in applying these techniques in a multidisciplinary framework, have provided me with invaluable insights needed to conceive, design, conduct and lead real-world R&D projects across different areas."
---
Evgeniy Goldis, SE PhD 2015, Chief Technology Officer, Newton Energy Group
"I'm working as the chief technology officer of Newton Energy Group (NEG). I am responsible for the implementation and application of high performance computing to optimizing software processes related to electricity and natural gas market modeling. I'm also a senior consultant with Tabors Caramanis Rudkevich (TCR) where I provide consulting services in the areas of generation and transmission valuation, wind integration studies, analysis of market power, resource adequacy and many others.
The PhD program at BU gave me the in-depth knowledge of optimization theory that is critical to my work and the unique research projects I participated in under the guidance of my adviser, Professor Caramanis, allowed me to apply that knowledge to real problems in the power industry."
---
Bowen Zhang, SE PhD, 2015, Operations Research Analyst, Cambridge Energy Solutions, LLC
"I am working as an Operations Research Analyst at Cambridge Energy Solutions, LLC. In my current role, I focus on improving the modelling accuracy of main electricity markets in North America, identify day-ahead power network issues as well as electricity trading opportunities. The PhD program at Boston University gave me lots of freedom to choose the research direction I was interested in pursuing. Working with Prof. Baillieul and Prof. Caramanis was a great experience. I learned a lot about energy market, reserve market, optimal power system operation, etc. My research experiences at BU will be a great fortune in my future career."
---
Xuchao Lin, SE PhD, 2014, Director of the Data Analysis Department , Zhejiang Shenqi E-commerce Co. Ltd.
"Currently I am working as the Director of the Data Analysis Department of Zhejiang Shenqi E-commerce Co. Ltd. (Shenqi-Online) in China. Shenqi-Online is a online platform that connects auto parts suppliers and customers. I am one of the founders of this start-up company and now the estimated value of Shenqi-Online is 180 million USD. The Data Analysis Department is responsible for providing data analysis in terms of predicting trending consumption features, building optimization models for the supply chain, developing and maintaining user behavior prediction models and so on.
I happily remember the years I spent as a PhD student in the Division of Systems Engineering at Boston University. I was lucky to have Professor Christos Cassandras as my adviser, who is an expert in discrete event systems. The PhD program in Systems Engineering is an interdisciplinary program and it gave me a great opportunity to gain knowledge in statistical modeling, optimization, machine learning and simulation. The solid foundation I built at BU in these areas is very helpful in my job as Director of the Data Analysis Department in Shenqi-Online."
---
Alphan Ulusoy, SE PhD, 2014, Senior Software Engineer, The MathWorks, Inc.

"I am currently working as a senior software engineer at MathWorks in the Control Design Automation department for development of Simulink. Simulink is a block diagram environment used by companies and government agencies across the world to design, simulate, realize, test, verify, and validate various control and multi-domain dynamical systems in a wide variety of industries such as aerospace, automotive, communications, industrial automation, and robotics."
---
Jing Conan Wang, SE PhD, 2014, Software Engineer, Google, Inc.
"I am deeply indebted to the faculty and staff in the Division of Systems Engineering at Boston University, and especially to my advisor, Professor Yannis Paschalidis. I consider myself lucky to have studied at this elite university and work with so many brilliant people.
The PhD program in the Division of Systems Engineering at Boston University gave me a very broad view of various fields, from operation research to computer science, which was a great advantage for me compared to graduates from more traditional programs.
I was very fortunate to work with Professor Paschalidis, who is not only a renowned researcher, but also a great adviser. He served as a great role model for me. He taught me how to analyze a problem in a scientific way and how to present theory in a rigorous yet interesting way. He encouraged students to innovate, and always provided his help generously.
After graduation, I joined Google as a Software Engineer. My job requires knowledge of optimization and machine learning, which I learned at BU. The solid foundation of knowledge I acquired at Boston University has enabled me to do my job well at Google."
---
Enes Bilgin, SE PhD, 2014, Research Scientist at Amazon, and Adjunct Faculty at McCombs School of Business at the University of Texas at Austin

"In my current role at Amazon, I utilize a very broad set of tools of Machine Learning, Statistics and Operations Research to make our supply chain operations even better. This is a critical undertaking as Amazon relies on the efficiency of its supply chain to deliver packages as fast as possible at minimum cost. At the same time, I am teaching Statistics and Modeling at McCombs School of Business at the University of Texas at Austin. I am so grateful for the education and experience I had in the Systems Engineering program at Boston University, which made it possible for me to get these roles in such prestigious organizations."
---
Benjamin Bell Walker, SE MEng, 2014, Engineer, Ibex Systems
"As a member of the LEAP program, I chose Systems Engineering at BU because of the unique Energy and Environment concentration. Courses with Professors Caramanis, Vakili, and others gave me a strong mathematical and scientific foundation for understanding the renewable and conventional energy markets. The rigorous courses and supportive professors at BU made it possible for me to achieve my goal of transitioning from am academic career in the humanities to a technical one in the renewable energy field."
---
Deanna Na Sun, SE PhD, 2013, Investment Analyst, AXA UK
"The years I spent at Boston University will never fade in my life, and obtaining my PhD from the Division of Systems Engineering is one of the proudest achievements I have ever made.
My PhD research focused on efficient Monte Carlo simulation methods for parameterized estimation with Control Variates approach. My advisor, Professor Pirooz Vakili, directed me from a little knowledge to a deep understanding of computational finance with his experience and keen ideas for research. I am eternally grateful for this experience, which equipped me with the confidence and bravery to face any uncertainties in the future.
The faculty in the Division of Systems Engineering are passionate and willing to share their research and perspectives. The weekly CISE/SE seminars exposed students to the research of others. The administrative staff were kind and warm, helping to take care of us in all aspects of life. Due to the interdisciplinary nature of the program, I had opportunities to sit in courses in other departments at BU and at MIT and Harvard. BU provided me with the greatest resources and exposed me to many brilliant people from around the world.
Now I am an Investment Analyst at AXA UK, a leading company in insurance, financial protection and asset management with a history stretching back to the 18th century. Our team is managing 7 billion GPB assets for three main AXA operating companies with strategic asset allocation, tactical trading and asset liability management. My current responsibility is to monitor the risk of our portfolio and the market impact of short term economic capital by opportunistic trades."
---
Reno (Tao) Wang, SE PhD, 2013, Senior Operations Research Developer, Sabre Airline Solutions, Sabre Inc.
"Currently I am working as a Senior Operations Research Developer at Sabre Airline Solutions in Sabre Inc., which is a leading technology company in the travel industry. My work is to develop a pairing optimizer and crew controller, to provide crew pairing and rostering for more than 30 airline companies all over the world. The problems being handled are large-scale mixed-integer programming problems, which require solid optimization knowledge and understanding of large-scale cooperative systems. Without the knowledge I gained during my PhD study, I would not have gotten through the technical difficulties and fit into the group at Sabre as quickly as I did."
---
Xiaojin Tang, SE PhD, 2013, Quantitative Research Analyst, State Street Global Advisors
"I vividly remember when I was indecisive in choosing between BU and another US top university. My advisor in Peking University told me 'Go to BU, you will never regret it'. It turned out she was absolutely right. Boston University's Systems Engineering program was relatively new at that time, but the professors have tons of experience and are full of passion. My first impression was everyone was so nice, enthusiastic and genuinely interested in the problems unsolved. Five years of study helped me build a solid foundation in domains like optimization, simulation and stochastic processes, which paved the way for my career.
I'm currently working for State Street Global Advisors, the world's second largest asset manager, with over $2.0 trillion in assets under management. My group is responsible for developing, enhancing and maintaining quantitative stock selection models which are used to pick high-performing stocks for our clients. Our work requires advanced knowledge in statistics, econometrics and optimization."
---
Fuzhuo Huang, SE PhD, 2013, Software Engineer, Google, Inc.
"I feel lucky to have spent my life as a PhD student at Boston University in the Division of Systems Engineering. The courses I've taken have enriched me with knowledge and power, and have continuing impact on my research and work. The knowledgeable faculty members in the Division of Systems Engineering were willing to discuss academic problems and gave encouraging and insightful advice. My fellow graduate students were nice and friendly. All those things I have mentioned provided an enjoyable and fulfilling environment.
My PhD research focused on developing a fast distributed approximate algorithm to solve The Maximum Independent Set Problems. I was lucky to have Professor Yannis Paschalidis as my adviser, an expert in the optimization area. We had regular meetings to discuss my research progress. During our meetings, Professor Paschalidis always pointed out the main goal of my research and led me through the tough path. I also had access to many resources I needed to help with my research.
After graduation, I started working at Google as a software engineer in an optimization team. It is really exciting to use what I've learned to solve real large-scale problems. My strong research background helps me a lot during the process. It would be hard for me without all those years I studied at Boston University."
---
Xu Ning, SE PhD, 2009, Senior Software Engineer, Akamai Technologies, Inc.
"I still remember freshly back to the summer of 2003, as a rising senior, I attended a lecture given by Professor Christos Cassandras, who was then visiting my alma mater—Tsinghua University (Beijing, China). I was immediately captured by the intricacy of discrete event system and the interesting problems that arise in the control and optimization of such systems. Prof. Cassandras encouraged me to apply to the Systems Engineering PhD program at BU, which I did, and it has been one of the best choices I've made in my life.
Systems Engineering is a new, interdisciplinary subject, and being a Systems Engineering graduate student, I had access to top faculties at all departments in the College of Engineering, as well as various laboratory facilities. There are limitless possibilities at BU. For example, in addition to my own affiliation with Prof. Cassandras' CODES (Control Of Discrete Event Systems) lab, I was actively involved with the research in Prof. John Baillieul's IML (Intelligent Mechatronics Lab) lab, even though it is in a different department. In both places I gained not only theoretical knowledge but also hands-on skills with which I applied the research results to some demo/proof-of-concept projects. Professors in the Division of Systems Engineering at BU are very encouraging and happy to facilitate students' research ideas by providing resources and advice.
Currently I am a Senior Software Engineer at Akamai Technologies Inc. Started as an MIT spin-off, Akamai is the largest Content Delivery Network (CDN) company in the world. With more than 100,000 servers around the world, we constantly handle between 15% to 30% of global internet traffic. At work, I design innovative algorithms and software to direct user traffic across the internet, optimizing the end-user experience. It is a very difficult problem to solve even by academic standards, and we are doing it at scale in real-time."
---
Yang Shen, SE PhD, 2008, Research Assistant Professor, Toyota Technological Institute at Chicago
"An interdepartmental program in a highly interconnected school of engineering, Systems Engineering at BU provided me with a unique opportunity to conduct interdisciplinary research in its non-typical area of computational biology. Coming from an engineering background, I have always had a strong interest in unraveling inner workings of biological systems and a desire to engineer them for therapeutic purposes, but I was not able to pursue these goals until I became a graduate student in the Division of Systems Engineering at Boston University.
I worked on developing new optimization methods to predict protein interactions that constitute the molecular basis of many important biological processes and are thus often drug targets. I was lucky to have a strong, multidisciplinary advising team, including Prof. Yannis Paschalidis, an expert in operation research who never tires of exploring new frontiers; Prof. Sandor Vajda, a biophysicist with profound background in mathematics and chemistry; and Prof. Pirooz Vakili, who specializes in stochastic processes and simulation and always offers his perspectives in an articulative way. The team directed me to understand the topic from biological and computational perspectives and encouraged me to cross disciplinary boundaries. I also had access to many resources, including taking courses in the Departments of Biomedical Engineering and Chemistry besides those in Systems Engineering, and getting advice from faculty members with expertise in biophysics, chemistry, mechanical engineering, and systems biology. Our research proved fruitful: it helped us win first place in a community-wide assessment of related methods and research grants funded by the National Institutes of Health.
After three years of being a postdoctoral associate at MIT, I recently started the position of research assistant professor at Toyota Technological Institute at Chicago, an academic institute in computer science on the campus of the University of Chicago. I look forward to developing interactions with computer scientists at the Institute and with chemists, biologists, and physicians at the University, and to continuing exploring unknowns and addressing challenges at multiple scales ranging from molecules to cells and to systems."
---
Wei Li, SE PhD, 2006, Senior Discrete-Event Simulation Engineer, The MathWorks, Inc.

"BU's System Engineering program created a unique environment that allowed me to study complicated engineering systems from a broad and interdisciplinary angle. The program prepared me for my career in many ways:
• It offered a great set of courses that allowed me to go as broad and as deep as I wanted in the areas I was interested in pursuing.
• It provided a laboratory environment in multiple engineering fields that allowed me to gain hands-on experience in real engineering systems.
• Solving real, cross-domain engineering problems enabled me to work with people from different fields. Thinking from the whole system angle honed my ability to communicate and integrate my thoughts with those of others."


---
Haining Yu, SE PhD, 2005, Manager, Operations Research within Decision Science Team, Walt Disney World
"The Systems Engineering program has had a decisive impact in shaping my career. The courses gave me a strong foundation in mathematical programming, probability and stochastic processes, and simulation. My advisor and committee members provided me constructive feedback for my research. Additionally I also had frequent opportunities to attend seminars from faculty and visiting scholars.
When I joined the industry after graduation, my training at the Systems Engineering program proved to be enormously helpful. At Walt Disney World, we seek to improve business decisions and enhance guest experience for our theme parks, media networks, movie studio and so on, all through analytics (see recent article from our college in ORMS Today for more information at http://www.informs.org/ORMS-Today/Public-Articles/April-Volume-39-Number-2/ROUNDTABLE-PROFILE). The complexity of the practical business problems forces us to creatively build analytic solutions from mathematical programming, simulation, and statistical methodologies. In hindsight, it would have been hard for me to tackle these problems without the training at Systems Engineering Programs."
---
Leonardo P. Santiago, SE PhD, 2004, Tenured Assistant Professor, Federal University of Minas Gerais, Brazil
"It is a pleasure for me to share my experience at Boston University, Division of Systems Engineering. I happily remember the years I spent there as a PhD student, and can assertively say that my professional activities are well grounded in the good education I received. At BU I had the opportunity to take all the courses I needed to carry on my doctoral research. The number of students in each class was relatively small, which allowed me to closely interact with both faculty members and classmates. In addition, once I was more focused on my research, I had the privilege to periodically discuss my research progress with three faculty members and to regularly receive constructive feedback from them.
In my doctoral research, I focused on management decisions in the R&D process. In particular, I provided managerial guidelines to evaluate the development of high-tech products and to form R&D portfolios, under market and technical uncertainties. I worked closely with Professor Pirooz Vakili, my supervisor, to understand the impact of several sources of uncertainty in the project value. In addition, I followed up a startup company where a novel product, the scanning laser ophthalmoscope, was being developed. This interaction allowed me to apply the models I was developing and to gain practical insight.
After graduation I went back to my home country, Brazil, and started to work as an assistant professor at the Federal University of Minas Gerais. Yet I continued to conduct research with senior colleagues at BU, who mentored my first steps in my academic career. Furthermore, most of my research community is based in the US and the fact that I went to BU was crucial in connecting me with my research peers. For instance, in 2010 I was elected to be part of the board of the Technology Management Section of the Institute for Operations Research and the Management Science (INFORMS)- a four years commitment plan. Last but not least, in 2009-2010, when I was on my sabbatical leave, I went back to the Systems Engineering Division and to the School of Management at BU as a visiting scholar to start new research endeavors. Needless to say, it was a very productive year.
In a nutshell, my years at the Division of Systems Engineering played a key role in shaping my analytical and critical reasoning. Not only was my professional activities deeply impacted by the education I received there, but also my personal life."