MechE Student Payroll Information
In order to be set up in Mechanical Engineering, you must submit the following form to Nichole Lawton (Finance Office, 110 Cummington Mall, Room 116A) before you start working:
Completed and signed Student Information Sheet
If you are new to working in Mechanical ENG and/or working at BU:
Signed Student Confidentiality Policy form
Signed FERPA form (ME Graders only)
Signed Intellectual Property Agreement form (ME Research/Lab Assistants/SURF only)
International student workers new to the payroll system should go to the ISSO to fill out his/her I-9. Your W-4 can be submitted to the ME Finance Office after your I-9 is completed, and you will need the ME Finance Office to complete a Student Employee Authorization (SEA) form.  The SEA form will require your supervisor's signature, and the form must be returned to ISSO before you can be set-up on payroll.
Paper copies of these forms can be picked up in the Mechanical Engineering Office.  Please contact Nichole Lawton with any paperwork questions:
Filling Out Your I-9 Form:
If you have already filled out an I-9 at BU, you do not need to fill it out again
You are required to complete and sign "Section 1" of the form
Supervisors/employers must complete "Section 2" of the form by viewing student identification. Document(s) must be original and unexpired; copies of IDs are not accepted (this is a requirement of the USCIS).
Acceptable documents are listed on page 9.  You must bring one document from List A

OR

a document from List B AND List C to Nichole Lawton.
*Please note, ME Administration cannot advise you on what you claim on your W4 or what to use for Section 2 of the I9. It is best to fill these forms out electronically, print the completed form, and bring it to the ME Front Desk Staff.
Examples of acceptable documents:
A valid U.S. Passport (List A)
A valid California Driver's License (List B)

and

a Social Security Account Number card (List C)
Use this helpful flowchart to help you navigate through the steps mentioned above: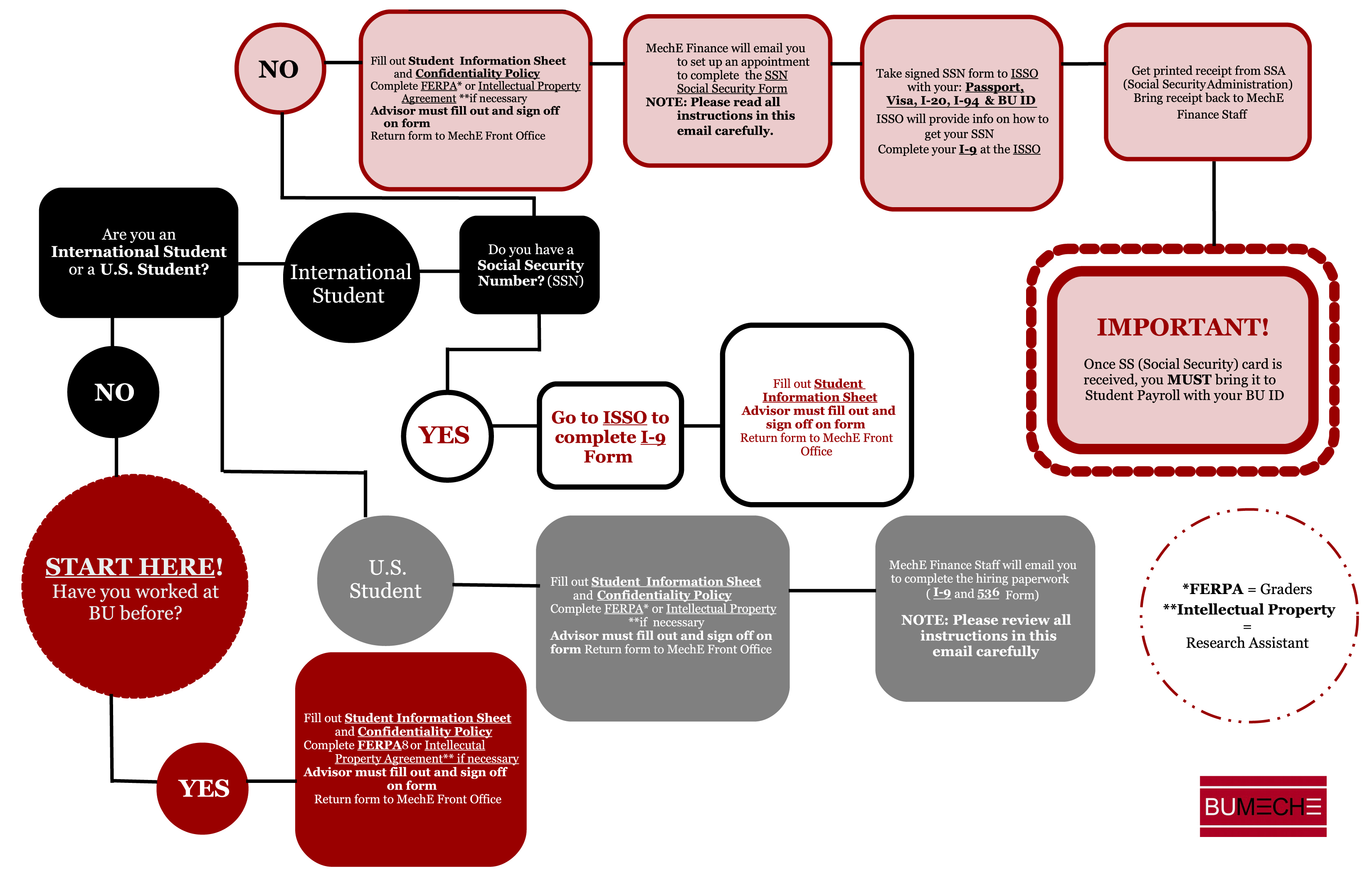 Submitting Electronic Time Sheets
Go to bu.edu/studentlink
Click on the "Work" tab
Click on "Employee Time Entry"
Log in
Click on the job title for the specific job you are submitting hours for.
Enter the hours worked.  If you work more than 5 hours straight, you are required to take a break.
Double check the hours listed and click on "Calculate Hours"
Check the box "I certify that this is an accurate record of the hours I have worked"
Click "Submit to Supervisor" to submit hours. You will be unable to change your hours once you submit them.  If you need your hours changed, please contact your supervisor.

Online time sheets must be completed and submitted by 11:59pm every Sunday.
Holiday time sheet deadlines will be announced via e-mail before they occur.
Forgot to Submit Your Time Sheet?
Please fill out a paper time sheet, have your supervisor sign it, and then bring it back to the Mechanical Engineering Front Desk as soon as possible.
Timely Submission of Student Payroll is Critical!
Please note: Students should be aware that late payments create the potential for a student to be placed into a higher tax bracket for the week in which they are receiving additional payments. This can cause more taxes to be withheld from a students' pay for that particular week.
Paychecks/Setting up Direct Deposit
Your first check has to be picked up at the FirstPoint desk located across the hall from the Student Employment Office (881 Commonwealth Ave, 2nd Floor).
Once you have received your first paper paycheck, you are eligible to sign up for direct deposit.  If you have problems setting up your direct deposit, you should contact the IT Help Center at 617-353-4357 or e-mail ithelp@bu.edu
Directions for setting up direct deposit: bu.edu/seo/students/pay/direct-deposit/
Other Information
The Student Employment Office website has many resources available to students, including information on requesting duplicate W-2s, tax treaty lists, and understanding your pay stub: bu.edu/seo/students/