Required Safety Training
Safety Training is for ENG students only. 
Please note that you will need your BUID in order to be trained and use the lab.
Please read the Operating Procedures below before attending training the session.
Singh Imagineering Lab Operating Procedures
Zoom Training Dates
3/5/21
We are now offering bi-weekly online Tinker Lab training for the remainder of the semester –
Sundays, 4:00 to 5:00 PM
Thursdays 8:00 to 9:00 PM
Here is the link to sign up:
https://docs.google.com/forms/d/1Aixveq9PzNdGYBECum9TJ2vIiAUR31KKhOFkat84t2Y/edit
(The form is only accessible to College of Engineering students with a BU email address.  If you have trouble getting in, close all accounts and browsers and open a new one.)
If you sign up for a training and miss it, you can just attend another one.  You need to sign-up to get the zoom link.  We will send it a few hours before the training you signed up for.  The last part of training is coming to the lab to have your quiz reviewed with some reminders but you can do this before starting a project.
Tinker is for COE students only and those working on a project with a COE student.
Everyone is required to train every year to use the Lab.  If you have been trained in Tinker AND have used the lab.  You can ask an Advisor for a "refresher" training tailored to your needs before you work on a project.  This on-line training will be more detailed.  If you are not comfortable working in the lab, you should take this full training.
Training Video
Required Training Quiz
Click here to access the Required Training Quiz
Before taking the quiz, attend a Zoom training, view the video, and read this page. 
Below is the Checklist/Talking Points for the training.  If the Lab Advisors does not mention these items, ask about them.  If you would like a more detailed training on something, make arrangements with an Advisor for another time.  If you believe the training was not complete or helpful contact, jsp@bu.edu.   Training is not only to acquaint you with the the lab but to emphasis the need for safety.
Checklist/Talking Points for Tinker Safety Training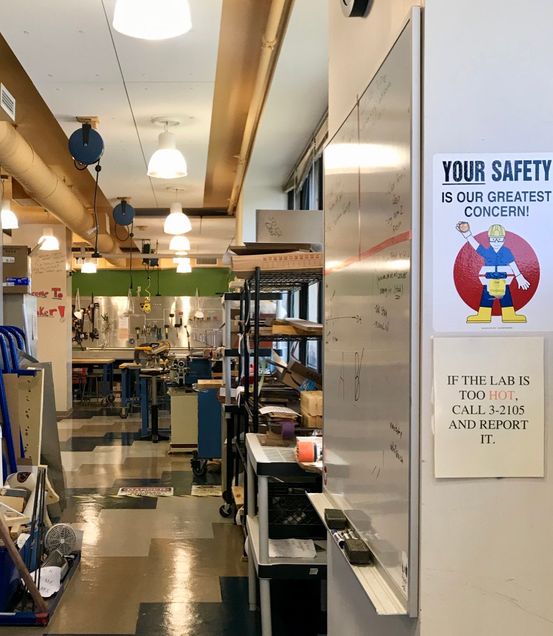 Training is required to use the lab.  Students must sign in with their BUID each time they enter the lab to confirm training has been done.  Safety is a serious issue and all rules must be followed.  You can start to work on projects immediately after training.  Lab Advisors are there to answer questions, discuss ideas, and help you find tools and supplies.  You are encouraged to visit the lab and ask the Advisors for assistance.  This website is also a tool for you to use to answer questions and find tools and supplies (see the inventory list on the "Equipment, Tools and Lab-Stock page).
(Our goal is to train all incoming freshmen in September.  Additional training times will be added for freshman in September, although freshman can attend any training time, even in the summer before classes start – you must have your BU ID card.   Freshmen should receive information from the Undergraduate Programs Office about the special freshmen training.)
You MUST be on time. You will not be admitted to training after it has begun. Be prepared to take notes.  Training time will be up to an hour. You do not have to sign up—Just show up and the first 25 people will be admitted. Usually there is plenty of room.  September trainings may reach the limit.
If you are coming to a workshop or training session that is held after 6pm or on a weekend you will want to be sure to already have card access to the front door of 44 Cummington Mall (ERB). To do this, please go to Zaius and request access to "Ingalls" which will include the front door of ERB (you should have already received an email introducing you to Ingalls and Zaius).
Please note training expires after 1 year and you will need to retake the training.
TRAINING SCHEDULE

This schedule could change.
Whenever the lab is open, training is offered at 1pm, 4:30pm and 7pm each day.  In September, we have a special training at 4:30 for incoming freshmen only but freshmen may attend the other trainings.  You will need to check the schedule to see if we plan to be open.  Open hours could change frequently.
All ENG students, including incoming freshman (after receiving their University photo ID) can, at any time, walk in and asked to be trained.  All Advisors will make every effort to train a student when requested but proper time must be given to receive proper training.  (It is unlikely that any walk in trainings can be done in September and January or during competitions.)

Training is only good for one year.  The same procedures above apply to being retrained.
Please read the document below before attending the training sessions.
Singh Imagineering Lab Operating Procedures