A Tool to Measure Cartilage Health
in BME Biomechanics and Mechanobiology, BME Molecular, Cellular, and Tissue Engineering, BME Spotlight Faculty, BME Spotlight-Research, ME Spotlight Faculty, ME Spotlight-Research, MSE Spotlight Faculty, MSE Spotlight Research, MSE student spotlight, Spotlight Faculty, Spotlight Research, Spotlight Student
By Emily Sorkin
"Imagine trying to develop a drug to lower cholesterol levels without a technique to

measure

cholesterol levels," says Michael Albro. "In many respects, this is where we are with arthritis."
But that is changing. Scientists will be soon be able to measure the results of different treatments, develop early stage diagnostics, and—most importantly—improve healthcare outcomes for patients with osteoarthritis.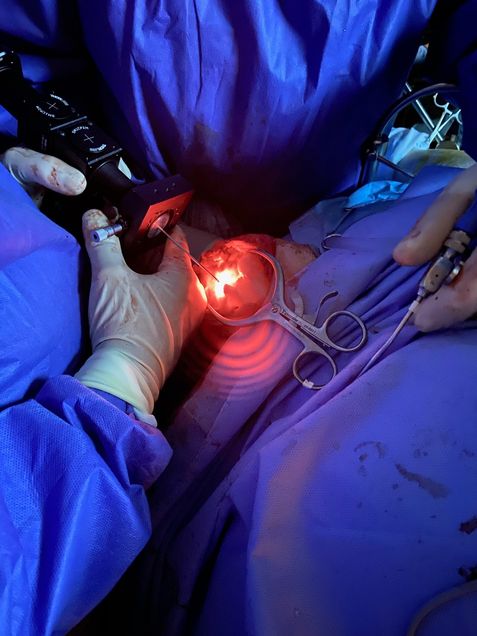 Professor Michael Albro (ME, MSE, BME) has successfully developed technology that can assess cartilage health and detect early signs of degeneration: the Raman arthroscope. The tool uses light technology and is inserted into a patient's joint with a hypodermic needle.
"The project is accelerating rapidly," explains Albro. While testing the tool in ex vivo models, the team found unprecedented accuracy in its ability to detect degeneration. Future tests involve animal testing; and eventually, clinical trials.
"The 'magical' drug to stop arthritis may already exist—we just need a way to identify it," says Albro. "This technology can make that happen."
MSE Innovation Grant
Osteoarthritis is a debilitating condition that occurs when the protective cartilage covering at the ends of bones gradually wears away. Around 25% of American adults have been diagnosed with osteoarthritis, and hundreds of billions are spent on healthcare for osteoarthritis annually.
Albro's winning proposal offered a creative and remarkable solution to a critical healthcare problem. It was a high risk and high reward idea, and Albro recalls feeling "absolutely elated" to have received the award in early 2020. "It is a wonderful feeling to have your research ideas validated by your peer community."
"The funds enabled us to further develop the Raman platform to increase outputs and accuracy [and to start recruiting] new PhD students for the project," Albro said. "I greatly appreciate the diverse academic backgrounds of the MSE student body. [They] facilitate the dynamic, collaborative laboratory environment necessary to tackle complex, interdisciplinary research projects."
The Interdisciplinary Team
"[This project] is a challenging pursuit that truly requires a team with a wide range of expertise," says Albro.
Leading the project with Albro are Professor Mads Bergholt, an expert in Raman endoscopes for cancer diagnostics at King's College London, and Dr. Brian Snyder, a renowned orthopedic surgeon at Boston Children's Hospital. Juncheng (Andy) Zhang and a group of students based in the Growth Factor Mechanobiology Lab have offered key contributions to the team. Andy is a BME undergraduate student who has made a variety of contributions to the research, from device development and software programming to cartilage diagnostics and biochemical assays.
"It has been quite an impressive undertaking for any student, let alone an undergraduate," says Albro. "Andy deserves much credit for the progress we have made over the course of the last year."
As a result of his experience in the lab, Andy has been inspired to pursue a PhD degree. "Working in the Albro Lab is one of the most important experiences in my life," says Andy. "[I] learned about the beauty and the excitement of real research. [Professor Albro] is always passionate about his research, and this drives me to try my best all the time!"
Albro's lab temporarily closed in Spring 2020 amid the COVID-19 pandemic and resumed operations in August 2020. "Despite the challenging circumstances involved in adhering to COVID safety protocols, the terrific students in my lab have found a way to maintain research productivity," reflects Albro.