Rebecca Khurshid Joins Systems Engineering to Advance the Relationship Between Humans and Robots
in ME Spotlight Faculty, ME Spotlight-Research, NEWS, SE Spotlight Faculty, SE Spotlight-Research, Spotlight Faculty
Khurshid heads the BU CAIR Laboratory and opens doors to SE graduate students this fall
By Nicole Havens
In March of 2017, Rebecca Khurshid was searching for the next step in her career: A full-time faculty position at a top university. She was concluding her postdoctoral training with the Massachusetts Institute of Technology's Interactive Robotics Group, and sought a renowned institution with a strong community to complement and propel her research.
When Khurshid interviewed with Boston University, she recalls, "I felt like it was just such a warm and welcoming place where people were doing exciting, high-quality research."
To relax and reevaluate her goals in the midst of the job search, she opted to take a vacation. She traveled to Guadeloupe and hiked a remote volcano during a rainstorm. On the hike, Khurshid found something out of the ordinary — a BU pin laying in the dirt path.
Khurshid says she saw this as a sign pointing her in the direction of BU, especially after having a great interview with the College of Engineering. When she got the job offer, Khurshid says, "There was no hesitation. I wanted to come to BU."
In July 2017, Khurshid joined BU as an assistant research professor of mechanical engineering, with a secondary appointment in the Division of Systems Engineering. Soon after, she launched the BU Collaborative and Integrative Robotics (CAIR) Laboratory. The following January, she transitioned into a tenure-track role as an assistant professor.
The CAIR Laboratory is focused on creating robotic systems that collaborate with human beings through physical and social interactions. Khurshid is determined to make a difference in the world by developing technologies that will impact multiple domains ranging from the military to an individual's home.
A key area of the lab's research is creating better interfaces to teleoperate, or remotely control, robots. Past applications of Khurshid's work in this area include teleoperation systems that used robots to disarm explosive devices from a safe distance.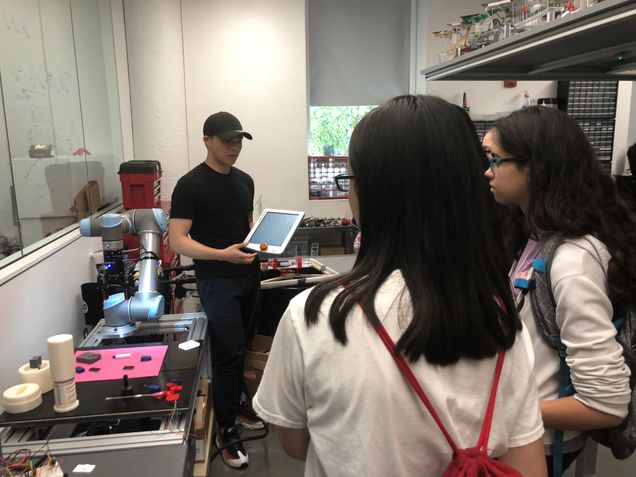 Short-term technology goals for the CAIR lab have major social implications in disaster response and manufacturing. Their advancements will also help individuals with physical
impairments better control their local environment.
"Many Americans have trouble manipulating the world around them; just picking up simple objects is difficult," Khurshid says. "If we can give them a tool to better control their world, I think that will be very impactful."
To ensure that her laboratory produces technology that is suitable for real world use, she looks to partner with systems engineers and industry professionals who understand the consumer's perspective. This insight also helps improve the technology.
Khurshid is quickly incorporating systems engineering contributions within the lab. This fall, a systems engineering graduate student, who has a background in robotic physical therapy, will join the CAIR lab's team.
Systems engineers further CAIR productivity by offering a strong mathematical background to model the complexities of systems consisting of human beings and robots. These models can then be used to generate desired behaviors in a robotic partner.
By teaming up with the Division of Systems Engineering, Khurshid will continue to strive toward the goals she has set for herself, her career, and the CAIR lab.
"I think drawing on the relative strengths of humans and robots, life can be more pleasant and more productive," Khurshid says. "That's the future I would like to see."
If you would like to get involved with BU's CAIR Laboratory or Assistant Professor Rebecca Khurshid's work, please email her at khurshid@bu.edu.