A Room with a View: MSE Alum Shakes Up the Common Window
in MSE Spotlight Alumni, MSE Spotlight Research, NEWS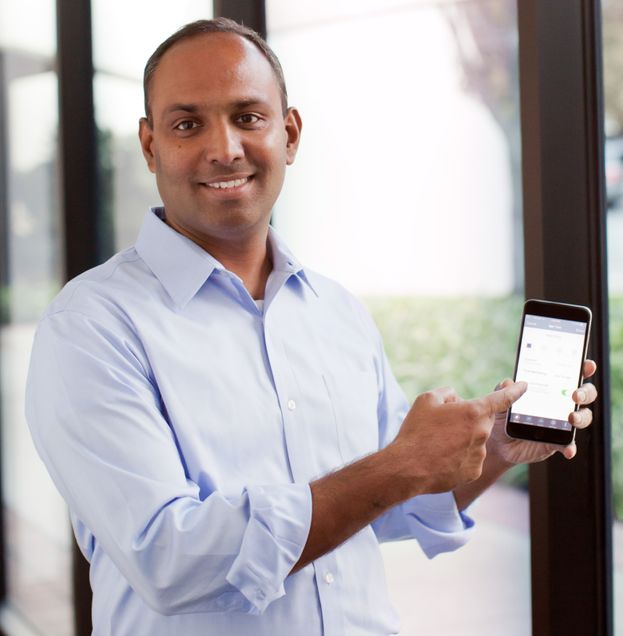 For centuries, windows have remained largely and functionally unchanged. But one BU alum saw the opportunity to innovate something we see and use every day that was right under our noses, and formed his company, View, with the goal of reengineering the window to make it smarter.
"We have this everyday object, the window, that was completely under optimized and we've just been living with problems like heat and glare while missing out on highly desirable things like natural light and a beautiful view," said Rao Mulpuri ('92, '96), CEO of View. "Light is required to live a healthy, happy, and productive life. We aren't using windows well and because of it, we are also losing a lot of energy. It was a compelling idea for us to build a business around redesigning the window from the ground up."
Natural light is important for health and wellness, and a well-placed window can go a long way to improve an environment at home and in the workplace. Blinds and shades help manage the discomfort from the glare of direct sunlight, but in turn we miss out on natural light and views that help improve our wellbeing. View has completely reengineered the window by being the first company to commercialize large-scale dynamic glass. The company uses semiconductors and software to automatically eliminate glare while still letting in natural light and enabling access to views – it's like sunglasses for buildings. Windows with View Dynamic Glass also lower building energy consumption by about 20 percent, and while the windows adjust themselves automatically, users can also control them from an app on their smartphone.
"People spend 90 percent of their time indoors, so first and foremost we want to help create better, healthier, more productive spaces for those who live and work inside buildings," said Mulpuri. "Our goal wasn't so much to create this beautiful piece of technology, glass, sensors or software; it was to use these as a mechanism to create delightful human environments."
From an early age growing up in India, Mulpuri knew he wanted to be in the world of business, inspired by his own father's steel fabrication business he built the from the ground up as a mechanical engineer. In fact, Mulpuri became an engineer with the expectation that he would eventually take over the family business. However, when it came time to choose a university for his master's degree, he decided to attend Boston University after connecting with the manufacturing engineering program, with the goal of eventually returning to India to take over his father's company. But his plans changed.
During his time at BU, Mulpuri worked closely with Professor Vinod Sarin (ME, MSE) who had come into academia from industry and was using his real-world experience to do a lot of applied work in his laboratory, which Mulpuri found very appealing. Mulpuri decided to stay at BU to complete his PhD, where he continued to work with Sarin as well as Professor Soumendra Basu (ME, MSE) and Associate Professor Michael Gevelber (ME, MSE, SE) who advised him on his graduate thesis. In a twist of fate, Mulpuri even met his current Chief Technology Officer at View, Robert Rozbicki ('92, '99) as a teaching assistant when Robert was an undergraduate. They have since worked together for more than 27 years.
"I never thought I would pursue a PhD because I never considered myself a traditional academic—I'm not a lab guy, I'm a business man. But I came to BU for my master's degree, stayed for my PhD, and I'm so glad I did," said Mulpuri. "While nanomaterials and materials science is such a fascinating field and you become sort of an expert while solving original problems, what I really learned at BU is learning how to learn, which prepared me well for my career."
After graduating from BU, Mulpuri worked in the semiconductor industry for 12 years at Novellus, a growing semiconductor equipment company. Beginning as a technologist and working his way up into an executive role, he eventually moved his family to Japan to oversee operations. As the company grew, so did Mulpuri.
"The semiconductor industry taught me how to do rapid development and use technology to quickly advance outcomes in a disciplined fashion, which allows you to sort through and address technical challenges that ultimately lead to success," said Mulpuri. "That approach created a natural segue to look at other areas in the world that were untapped opportunities so we could fundamentally change for the better something that people take for granted every day. And that is what led me to View."
Not only has View changed the functionality of the glass, but also the form. Multiple nano-scale layers of metal oxide form the electrochromic ceramic coating on the inside of a window, and when a small electric voltage is applied, the ions move between the layers, causing the tint. The tint is automatically controlled by software that connects to sensors located in the building and can also be controlled via smartphones. So far, this technology has been implemented in more than 350 buildings in North America, including commercial offices, health care facilities, universities, airports, hotels, government buildings and multi-family residential complexes. While View has not tackled single-family homes as yet, this is certainly on the horizon as the company continues to grow.
According to Mulpuri, building the company, from the technology to the business plan, from the ground up and scaling to mainstream is the favorite part of his career. He remains actively involved in the BU community as a member of Dean Kenneth Lutchen's Advisory Board and was the 2012 recipient of the Distinguished Alumnus Award.
"As a business leader, at the end of the day you have to deliver results, and as an engineer you apply what you have learned to something that is real and useful and has a benefit to society," said Mulpuri. "When you peel everything back, I am a family business guy at heart and that is the mindset that has governed the way I have built this company."
VIEW BY THE NUMBERS
More than 500 patents filed
More than 100 patents issued
More than $600 million dollars of investment
600 employees
More than 500 buildings won across North America, Europe, Middle East, and India, with 350 already completed and another 150 in progress
More than 20 million square feet of real estate using View Dynamic Glass
20,000 building occupants enjoying the benefits of dynamic glass every day