in BME Spotlight Alumni, ECE Spotlight Alumni, ENG Spotlight Alumni, ME Spotlight Alumni, NEWS, Spotlight Alumni
Concentrations Prepare Students to Sell Ideas. And Themselves.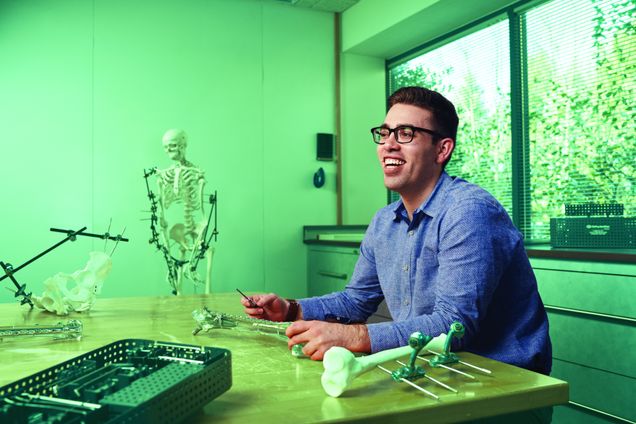 By Liz Sheeley
Even when an engineer crafts an elegant solution to a problem, it doesn't always get put into practice or made into a consumer product. Companies must craft solutions that are both business savvy and budget friendly, and sometimes products (or processes) don't see the light of day because they are too difficult to produce or implement. But when engineering students learn early how to design a solution—whether it's a new medical device or a streamlined warehouse design—and take into account factors like sustainability and commercialization, solutions can become innovations. The drive to expose students to how engineering innovations improve society—a key to shaping the Societal Engineer—led to establishing undergraduate concentrations in 2009. By focusing on fields where engineers have significant impact, these concentrations go beyond engineering majors to show students the path successful technologies take, from design to the marketplace. They also complement minors, which focus on traditional academic disciplines outside of a student's College of Engineering or BU major. Nearly half the Class of 2017 graduated with a concentration or minor added to their degree.
With courses like strategy for technology-based firms, students can develop insight that helps them see the bigger picture, such as the timing of a product's development and why it's made of a particular material; they also study important business concepts like intellectual property and product management. And because the content is grounded in how actual companies operate, these courses make students very appealing to employers.
"What I've found with engineers in general is that most of us have this gift to really dive into the nitty-gritty of a certain topic, but some of the best engineers are bad at selling a product or a service," says Neeraj Basu (EE'16), who graduated with a concentration in technology innovation. "If you look through the patent books at a lot of colleges, there are some amazing technologies, but the reason they've never surfaced to the market is because people don't know how to properly apply them or penetrate a market where they can add value. They're creating these really cool things, but they don't know what to do with them or how to sell them. That's why I decided to take the Technology Innovation concentration, so I could get the business savvy behind the technology."
Concentrations in technology innovation (the most popular), nanotechnology, manufacturing engineering and energy technologies are available to all undergraduates. An additional concentration, aerospace engineering, is available to mechanical engineering majors. In each concentration, students select four courses from a suite of offerings and complete a related experiential component, such as a research project or internship.
Joshua Liebowitz (BME'16) chose to add the Technology Innovation concentration—which offers courses geared toward the business and commercial space within technology development— when he developed an interest in product development.
"When I first came to BU I wasn't sure exactly what I wanted to do for a career, but I've always been interested in business," he says. "After I took the Business of Technology Innovation course, I soon realized that I wanted to be a part of research that could actually improve a patient's life, and through other classes I discovered medical device development."
Following his sophomore year, Liebowitz took an internship with the medical device company Medtronic. "That was my first engineering experience where I worked on surgical tools as a quality engineer," he recalls. "After my internship with Medtronic, I realized that every class I take should be giving me a skill that is tangible for industry, and a lot of the classes in the Technology Innovation concentration gave me those skills that I could use in interviews and especially on the job in terms of strategy, analytical thinking and solving complex problems that an employer would give me."
"My favorite class was Product Development with Professor [of the Practice] Gerry Fine," he goes on. "The class really gave me an in-depth view on what the best product development practices are for companies overall. Then through analyzing case studies and prototype development projects that we had in class, I was able to learn about product development theory and apply those learnings to the medical device industry."
Prior to earning a master's degree at Georgia Institute of Technology, Liebowitz got an internship at DePuy Synthes, the orthopaedics business division of Johnson & Johnson, working on plate and screw technologies for trauma injuries, which led to his current position as a research and development leadership program engineer at the company's Philadelphia location. There, he puts the knowledge gained in his concentration to use by working with physicians to finalize design concepts while also analyzing the supply chain to define the product's manufacturability and marketing.
Eventually, Liebowitz wants to work at the intersection of new product leadership development and commercialization. "I would love to define strategy, identify opportunities for innovation and quantify the value that innovation and development would provide for both the healthcare system and a company like Johnson & Johnson," he says.
Employers also see tremendous value in potential employees who can tackle real-world problems. Valentina Toll-Villagra (ME'16) credits the Manufacturing Strategy course she took in her Manufacturing Engineering concentration with exposing her to case studies that detailed how businesses solve problems they encounter.
"You get a broader perspective about real-life experiences when you go through cases and imagine yourself in that role and think about what you would do in that situation," she says. "I don't get perfectly crafted problems in my job where there is one solution, but instead more open-ended ones where there may be more than one right answer, so knowing how to analyze a situation and come up with a solution is valuable."
Toll-Villagra is based out of Austin, Tex., as a start-up project manager for Amazon in the operations engineering department, where she oversees the build-out of new warehouses for last-mile delivery—the final step of a product's delivery journey to the customer. But it's not just about choosing a location and constructing a warehouse; she manages everything from the installation of the material-handling equipment to designing a layout that will optimize workflow. Each warehouse is different, which means each project requires a unique plan.
"I work for a very dynamic company so most likely would not be using the same technology over several years. It's always improving and changing over time, to make processes faster and more efficient. Reduce waste and optimize layout," Toll-Villagra says.
Automated Manufacturing, which she took as a junior, gave her a realistic perspective about what working in industry was actually like. "We learned about why certain processes are called what they are, or why they are currently used in industrial settings," she explains. "That class introduced me to the automated conveyer belt that is used in actual warehouses."
Two recent electrical and computer engineering alumni credit the Technology Innovation concentration with showing them how to integrate technical knowledge and business practices. As a security consulting senior analyst for Accenture in Boston, Santiago Beltran (CE'17) works with clients to develop a personalized security operations platform to monitor for hacks and stop any potential system breaches before they happen.
"I was able to fulfill both my desires to be able to learn engineering concepts and also learn how to actually make a product, sell it and return value through the technology innovation courses," Beltran says. Interested in entrepreneurship, Beltran participated in Questrom School of Business' start-up accelerator BUzz Lab and, during sophomore year, began developing a start-up with other students. "I was able to take the skills that I was learning through the Technology Innovation concentration and apply them immediately because we were trying to build a company and I thought that was really valuable," he says. He recommended even non-engineering students in his start-up take the introductory course.
Beltran has since left the start-up, but the accelerator is now integrated into a new $20 million initiative called Innovate@BU. "Seeing that BU is actually investing heavily in an incubator space and promoting student-run ideas makes me happy," he says. "I think the combination of a space where students can make their ideas happen and a curriculum that can support that process—that's big."
Beltran was also able to use his skills during job interviews and in his role at Accenture. "In an interview when a company asks me how I would go about a certain task, I can respond with the technical answers, but businesses also want to know if they could profit off of this or if they could actually return value; if they are solving the client's question," he notes. "And the technology innovation courses I took helped me understand those business aspects and made it much easier for me to answer those questions."
As a consultant working with clients, Beltran finds one class within the Technology Innovation concentration provided a skill he constantly uses on the job: design-based thinking. "Design-based thinking is an approach where, based on the problems we are observing, we try to come up with solutions, so we put ourselves in the shoes of the client in different perspectives, and then brainstorm a wide array of possible ideas and try to change our approach to come up with a valid solution," he explains. "In that case you are talking to a client and figuring out if our solution is the right fit for them, or in my position, how we can secure a client's enterprise. We have the concept for a solution, but then being able to brainstorm and interact with the client can be key. Through talking about what kind of attacks they face and what their vulnerabilities are, you can create interactive workshops and get them to think about security not just in a technical sense, but also about how it impacts their business or the bottom line, and that all comes down to designbased thinking."
Basu, too, sees the value of the Technology Innovation concentration in interweaving a technical degree with knowledge about where industry places value: "When you can show a company that you not only understand the technology, but that you also understand the business and customer base enough to cater your work to add value to the consumer—that really helps with the interview process."
Basu works in West Virginia at the Tabler Station start-up site for Procter & Gamble as a power, controls and information systems engineer. He notes that when you can understand the technology behind the entire system and pinpoint an area that can be optimized, companies see the value in you as an engineer. The site manufactures all hair care products for Procter & Gamble; he works to optimize the production process. If an employee can look at the production line, see that the shampoo bottling/filling process is an area for improvement, develop a solution to speed that process up, and present it to the company showing that it is not only innovative but also saving time and money, value is added.
The minors and concentrations within the College of Engineering allow students to develop expertise that complements their major. Jesse Batson (ME'17), who graduated with a concentration in aerospace engineering and a minor in astronomy, says that being able to understand both the engineering and research sides allows for smoother communication and product development. Aerospace is rooted in engineering; space technology in scientific and technical research.
Explains Batson, who is working on a master's degree in mechanical engineering, "A lot of the space industry, whether it's industry or government, focuses not only on aerospace engineering, which is all within the atmosphere, but also space technology, which is more about developing satellites. Having both the minor and concentration becomes really helpful if I'm on an engineering team and we have to talk to the scientific research team—it's always beneficial if the engineers know about the research side and vice versa. I would be good at communicating effectively between the two teams because of my knowledge in both areas."
"Mechanical engineering is a broad degree and you can do many things with it after graduation," Toll-Villagra agrees. "That's probably why I picked manufacturing engineering as a concentration, because we learned about topics like efficiency and supply chains, which are highly used in manufacturing but also apply to any industry."
"At the job interview level, the technology innovation concentration is a good way of building a business-focused dialogue so that you can talk technically, but then also talk about what companies ultimately run on, or the business side," Beltran concludes. "Then on the job, being able to have those skills can definitely impress managers and company leadership because you are more versed in some of the issues that they're thinking about."