in ME Spotlight Faculty, ME Spotlight-Research
By Shruti Bhiwandiwala
2018 has already been a big year for Prof. Brian Walsh. Following a successful collaboration with the University of Miami on a launch at Poker Flat, Alaska, he's now preparing for the ANDESITE launch, scheduled to happen in the near future.
The journey behind the University of Miami launch goes back a few years, when Walsh worked at the NASA Goddard Space Flight Center, researching ways to measure the space environment from very far away. "The way we often study things is by sending spacecrafts to those areas. However, if you do that, you only have one little point measurement; we want to go and measure the big system," he explains. And so, he helped devise a scheme to do this using x-rays by measuring light in the x-ray wavelength. If this worked, it would be possible to image the full magnetic field of the earth.
With this project, UofM astrophysicist Massimiliano Galeazzi wanted to study objects in the distant galaxy, which meant having to look through the earth's plasma and the space environment around Earth. While Galeazzi wanted to make sure the local environment had very low emissions, Walsh was hoping for the opposite – he really wanted them to be high since that's what he wanted to measure. The team devised an area where they could expect the highest local emissions from here on the earth and decided to launch a rocket looking at the very highest level. "We submitted a proposal a little over a year ago to receive resources from NASA to do the project, and they thought it was a great idea. We've actually launched the payload a couple of times already through a similar program out of different places; we launched some out of New Mexico," Walsh adds.
When discussing multi-school collaborations, Walsh notes that it's always difficult for one group to work on this kind of project. With the UofM project, BU brought their expertise in the area that the team was trying to image called the Cusp. "Figuring out where to point the rocket, when it's bright enough to launch, and how it's going to be moving as a function of time, were all data points we provided," he says. All these details need to be planned in advance, so a lot of time was spent modeling where the target was expected to be, how it should move throughout the night and things that could be contaminating it. When it came to the launch, the team put together a model to figure out when it would be bright enough for them to image.
---
"
Figuring out where to point the rocket, when it's bright enough to launch, and how it's going to be moving as a function of time, were all data points we provided

."
---
In terms of understanding the data and research from this launch, the team is just collecting parts from what was a very successful launch. While the researchers are still working on deciphering the data, the Poker Flat launch has provided Walsh with the opportunity to use some of his work on a future NASA-supported project called CuPID (Cusp Plasma Imaging Detector). The cube satellite is expected to launch in a little over a year, but unlike the sounding rocket that returns to Earth in five minutes, this will be in orbit for 20 years.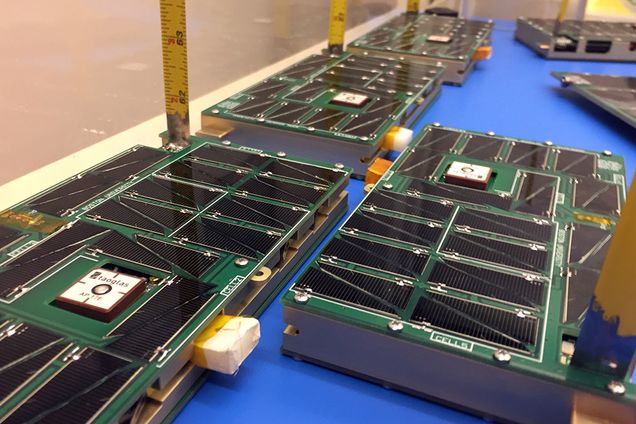 Walsh elaborates, "We're building the satellite to measure this exact feature – where the rocket was measuring the x-ray emissions from the Cusp – but rather than just one set of measurements, we're going to be measuring it every 90 minutes for years to come. Getting this proof of concept measurement is really important; the counts were much much higher than we expected from the Poker Flat launch, so we need to then take this back to our satellite development and figure out ways to make adjustments to make sure things are measured efficiently moving forward."

CuPID, however, isn't the only launch he's looking forward to. In the near future, Walsh and his team of students are expected the launch ANDESITE, a Space-Based Wireless Sensor Network (SB-WSN) that addresses the limitations of individual satellites to spatially and temporally resolve the information on various space phenomena. For Walsh, a science question lives in the heart of this project: What small-scale features of the earth's magnetic field are we trying to understand? "We can do this on the surface of the earth, but certain things change in space, so we want to measure that in space. That's re
ally difficult to do – we can't image it from the ground, but we can send a spacecraft to measure it. However, that means getting only one point of measurement, so we wanted to send a whole bunch of them," Walsh says. The underlying piece of this project was to measure small-scale features, and the team kept expanding outward from there to figure out how it can be built, and what kind of things would need to be developed.
Education was also a huge part of this endeavor, which meant the project took longer than it would have if grad students were the only ones to work on it. The process began with coming up with a science goal, and one that could be solved. Then the team started mapping out ways to make it work. Once financial resources were sustained, construction was underway. Walsh adds, "We have this philosophy here with our group–rather than focusing all of our time on analysis beforehand, we'll build something, see how it failed, and build another one. That works better for us."
---
"
We have this philosophy here with our group–rather than focusing all of our time on analysis beforehand, we'll build something, see how it failed, and build another one

."
---
The building process from start to finish took years, with the original proposal being sent to NASA back in 2014-2015. Although maintaining knowledge has been challenging over a long period, one benefit is that many students get to be involved. Walsh states, "We've kept in touch with quite a few of the students, and they're all doing really exciting things. The students that have worked in the small-satellite program for several years are very well-positioned for jobs because of their hands-on interdisciplinary experiences in aerospace. A lot of them go on to work at major aerospace companies such as SpaceX and Virgin Galactic. Many of them come back to visit the project which is fun for them as alum but also fun for the current students to see that they're part of something larger than themselves or the current team. It's very exciting for them to see the progress, and it helps keep the connection between the alumni, the department, and the university." He adds, "When the other students see that, they realize that could be them soon–doing cutting-edge work and moving on to really exciting companies. So it's been really fun to see the student development component."
---
"
It's very exciting for [former students] to see the progress, and it helps keep the connection between the alumni, the department, and the university

."
---
For Walsh, the ANDESITE project has demonstrated a couple of things, one of them is that students can do it and that they're able to do the work, put together the intellectual components, and successfully build a spacecraft. This would be the first time people would use an ad hoc wireless network in space, which enables a wide array of experiments that could be done with space-to-space communication—talking directly between spacecrafts. Walsh explains, "In a traditional model, all spacecrafts will talk to the ground, and if we're operating a spacecraft from right here at BU, it will only pass over us twice a day. When you're trying to do reactive separations between the two, you need to know where everyone else is at every second. If you only talk to it twice a day, there's a time lag and that's no good. We also have another new engineering piece behind this—a space-based deployer. The aircraft goes up, and it shoots a baby spacecraft from the mothership, which is the first time something like this is being done so that another piece we're excited about demonstrating."