Behind BU Bold: MechE's Role in the Climate Action Plan
in ME Spotlight-Research, MSE Spotlight Faculty, MSE Spotlight Research, SE Spotlight Faculty, SE Spotlight-Research
For BUMechE professor Michael Gevelber, the
Climate Action Plan
has been a project 10 years in the making.
By Shruti Bhiwandiwala
Prof. Gevelber (ME, MSE, SE) who offered energy audit courses for five years starting in 2008, worked with a team of students in Spring 2017 to formulate the research that would help build Boston University's Climate Action Plan, and draw the path towards BU Good (80% reduction of greenhouse gas emissions by 2050), BU Better (100% reduction by 2050), and BU Bold (100% reduction by 2040). His goal for the research was to use the university as a living learning laboratory—throwing the students into the field, help them cope with the steep learning curve, and build a body of research that would benefit both the students and the BU community.
"It was a process of refining things as you learn," he says, "This was a different experience for students, who are used to regular structured courses with well-crafted problem sets and structure. Here, however, as we learned, we had to go back and refine information, and repeat the process over and over again, which is how it is in the real world. It's like putting together a mosaic where some parts fit, but you have to go back and think about what was right and wrong." Prof. Gevelber held the students to very high standards, since it would be his responsibility to present their findings to the university leadership.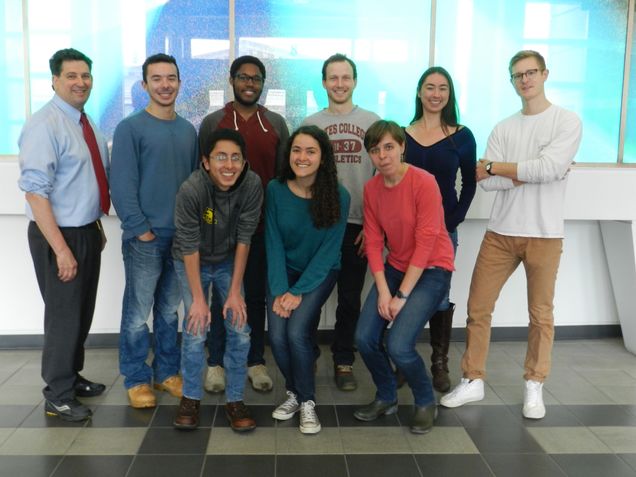 Prof. Gevelber and his team developed an analysis of what energy efficiency opportunities are available across both the Charles River Campus and the Medical Campus, and addressed how large an impact it would have on BU's energy bills, greenhouse gas emissions, and how much it would cost. The analysis provided BU administration as well as Facilities with a detailed roadmap for next steps to be taken, building upon their efforts to-date. Developing this analysis was challenging, since there are many complexities in addressing all of BU. The analysis was important since it provides management with a realistic view of what was doable and how much it would cost. The team tackled assessing the more complex set of energy efficiency opportunities, where the next steps weren't quite evident.
---
"
It was a process of refining things as you learn…It's like putting together a mosaic where some parts fit, but you have to go back and think about what was right and wrong

."
---
For Prof. Gevelber, it was also an opportunity to connect with alumni and former students. He says, "We reached out to a number of alumni who are working in this space, and they really helped us out. I think this connection to alumni, and building that connection was important. There's a strong interest for students to work in this space, and there's a recognition that we already have a lot of people from BU working in this space, and we want to build that community for students and their future job prospects." For this specific project, Prof. Gevelber was able to reach out to Paul Gallagher (ENG'13) and Colin Boosey (ENG'04) at Trane, and also had the team work with Elijah Ercolino's (ENG'10) group. Ercolino is now BU's Director of Building Automation Systems for Facilities Management & Planning, and was a former student who harkens back to when Prof. Gevelber first started offering the energy audit courses. He helped start the BU Energy Club, and worked at several energy startups before making his way back to BU.

Current students, however, were excited to work on this sort of project course. For Paul Chiampa and Jessica Gimbel—who worked on gathering data for the Medical Campus—an energy efficiency course seems like an obvious and crucial choice. Chiampa, who came to BU following his experience as a chemist, says, "BU could really grow its energy engineering program. We were sort of hired as engineers for BU to show them this opportunity. We presented the plan to people who can make decisions here. This project could also be used as little independent projects to help find ways to save money, decrease the carbon footprint, and give students the opportunity to learn and get that real-life experience. It's a win for everybody, and one of the coolest experiences I've had at BU." Chiampa's work on the project landed him an internship with BU Facilities. He continues, "It felt like it made a real impact—I'm applying to jobs now, and the people who see this presentation think it's great. This project really helped me figure out what I wanted to do."
---
"
It felt like it made a real impact—I'm applying to jobs now, and the people who see this presentation think it's great. This project really helped me figure out what I wanted to do

."
---
For Gimbel, the experiences were similar. As someone who came into the program with little to no prior engineering experience (Gimbel is a registered nurse), the project was the perfect starting point for a future in societal engineering. "I walked into it with a lot less experience than the rest of the group," she says. "I'd taken general physics and intro to MATLAB, but I had no working engineering knowledge. But my career before this as a registered nurse was what led Prof. Gevelber to accept me as part of the group, since we thought I might have some insight into how things work at the medical campus," she adds. Little did she know, it was mostly research labs as opposed to hospitals. Working with the group, however, was an eye-opening experience for Gimbel, who had little to no prior contact with a research atmosphere before. "I was doing a lot of coding and general physics—stuff that can have a lot of real world impact but is also very theoretical—so to be engaged in work where you actually have an impact, and can show that the university is able to implement these energy efficiency measures and formulate the climate action plan was really rewarding," she quips.
During their research on the Medical Campus, Chiampa and Gimbel looked at the six biggest energy users and found that across the board, the heat used there was quite expensive and wasteful—a huge opportunity for BU to save money and energy. Since a lot of the buildings on the med campus are quite old, the best plan of action would be to retrofit these buildings, and put in automatic controls that can support energy efficiency. Based on their calculations, the eventual savings for BU would be in millions, which would eventually be reinvested in the Climate Action Investment Fund for future energy efficiency projects.
Over on the Charles River Campus, a lot of focus was on Mugar Library, representative of the older buildings on campus. Gabriella Henkels, who worked on finding ways to convert pneumatically controlled HVAC systems to direct digital control, which would allow for scheduling of the airflow systems. "I did an analysis of Mugar Library, and took a look at old mechanical drawings just to see what the load for the building was designed for, got information from the librarians and administrative office there to see what hours of the day were most active, gathered data about maximum occupancy, and eventually discovered that there were a lot of reductions that could be made at Mugar, which would save BU a lot of money," she explains.
The other part of the project for Henkels involved looking into the cost of retrofitting the systems. Henkels, along with her teammate Brad Miller, was able to figure out how to get the system to respond to occupancy, and looked into CO2 sensors and VAV boxes in different parts of the building, which would be able to send out different amounts of airflow in different areas based on what the sensors tell the system. "What we did could help other universities to get an idea of the scale of HVAC retrofit projects, and the steps we took could definitely be recreated and modified case by case," she says.
---
"
What we did could help other universities to get an idea of the scale of HVAC retrofit projects, and the steps we took could definitely be recreated and modified case by case

."
---
The team's findings contributed to the financial analysis that Gevelber developed for part of the Climate Action Plan, in terms of estimating the cost and savings that could be achieved for the BU Good, BU Better, and BU Bold options. The research they did was the first step towards doing some analysis, as opposed to just talking about projects and not having any idea of an actual path forward, since these plans would be part of large scale disruptive projects on campus. Henkels adds, "For me, the project steered me in the sustainability direction. I'm hoping to go into the field, and am considering green building design—something to reduce greenhouse gas emissions."