in BME Spotlight Faculty, ENG Spotlight Faculty, MSE Spotlight Faculty, MSE Spotlight Research, NEWS
Joyce Wong Presents De Lisi Distinguished Lecture, Highlights Collaboration and Research in Biomaterials to Treat Disease
By Sara Cody
Standing before a packed ballroom of colleagues and friends on April 25, Professor Joyce Y. Wong (BME, MSE), recipient of the 2016 Charles De Lisi Award and Distinguished Lecture, presented "Biomaterials to Detect and Treat Disease." The award recognizes faculty members with extraordinary records of well-cited scholarship and outstanding alumni who have invented and mentored transformative technologies that impact quality of life.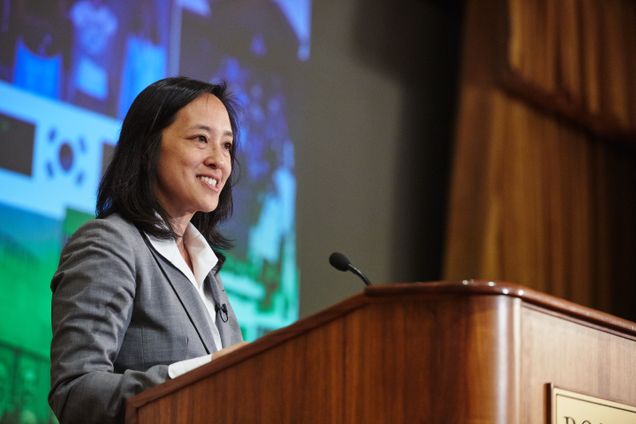 Wong recounted the experiences in her life that informed her career, from her parents, both chemists, inspiring her from an early age to pursue a career in science to a sabbatical she took in 2011, when she participated in a surgical observership in the cardiology department at Children's Hospital Boston.
"There is a high, unmet clinical need because eight out of every thousand infants are born with congenital heart defects, and the current solutions have a lot of problems," said Wong. "Multiple surgeries result in scarring, limiting the tissue surgeons can work with and biological implants calcify over time. More importantly, synthetic grafts can't grow with a child, so that's why multiple surgeries throughout a patient's lifetime are needed."
After observing the herringbone pattern of collagen under a microscope, Wong thought she could create a patch that could grow with the child by patterning and layering the collagen into sheets. Working in tandem with the Center for Regenerative Medicine and laboratory in Japan, she developed a patch made of collagen sheets derived from induced pluripotent stem cells—adult stem cells that have been reverted to undifferentiated stem cells so they can be induced into any cell type.
"The environment at BU presents a lot of opportunities for collaboration and provides resources to push your research forward," said Wong. "Next, we want to transition to translation to get this into a clinic. We recently incorporated into a company where we will produce these patches as 'band-aids' that can help restore blood vessels that have been damaged from procedures like angioplasty or stenting."
Wong also discussed her latest project, which focuses on finding a better way to locate and treat the fibrin adhesions that sometimes develop after surgery. The adhesions stick internal organs together, causing abdominal and pelvic pain, as well as infertility in women. Wong is working on a non-invasive approach that uses ultrasound and tiny bubbles that can both enhance the ultrasound image and deliver drugs to the adhesion sites.
"Using ultrasound, we want to be able to image using one frequency, and to destroy them (the adhesions) with another so we can essentially 'see and treat' surgical adhesions," says Wong. "Currently we are collaborating with a laboratory in France to use their multichannel microfluidics technology to streamline the delivery of microbubbles, which would allow us to move forward with the technology."
The importance of collaboration was a common thread through Wong's lecture, particularly on an international scale. She noted, and thanked, her collaborators, mentors and family who hail from a wide array of countries.
"Science is global and the projects like the ones I have highlighted today are possible because of the collaborators from all over the world," said Wong. "Working together allows research move from basic science to applied research, and provides a foundation for innovation. It's critical that we keep this in mind as we move forward."
The DeLisi Lecture continues the College's annual Distinguished Lecture Series, initiated in 2008, which has honored several senior faculty members. The previous recipients are Professors John Baillieul, (ME,SE), Malvin Teich (ECE) (Emeritus), Irving Bigio (BME), Theodore Moustakas (ECE, MSE), H. Steven Colburn (BME), Thomas Bifano (ME, MSE), Christos Cassandras (ECE, SE), Mark Grinstaff (BME, MSE, Chemistry, MED) and M. Selim Ünlü (ECE, BME, MSE).