Novel Hydroponic Garden Design Takes Top Prize in Imagineering Competition
in NEWS
By Sara Cody
Growing up on an organic farm in Hawaii, Summer Mundon (ME'17) was exposed to sustainable agriculture at an early age. When it came time to design a product for the Sixth Annual Imagineering Competition, which invites undergraduates to submit extracurricular projects that showcase their creativity and entrepreneurial capabilities for a chance to win cash prizes, she decided to tackle the issue of efficient gardening in small spaces with her creation, MARSH.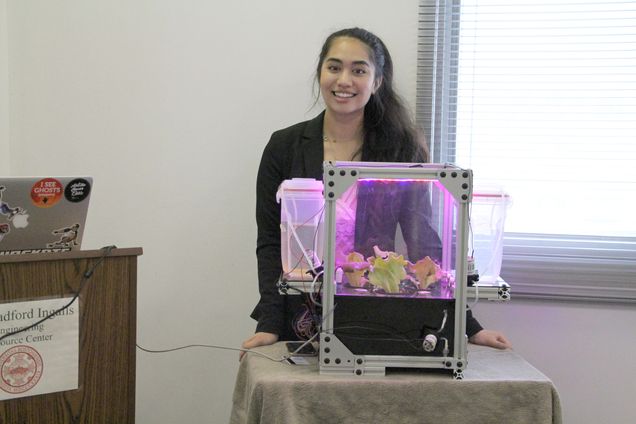 "As an engineer I want to create everything I possibly can — whether it be machines or even my very own food," said Mundon, whose project won the competition's grand prize. "MARSH originated from the need to efficiently grow my own organic vegetables in as little time as possible to fit in my busy schedule as a student."
MARSH, whose name is derived from a portmanteau of her parents Mark and Shirleen, is an autonomous hydroponics system that can be used to grow a variety of plants. The modular system, which she hopes can be modified to accommodate plants of different heights, utilizes water reservoirs and UV light in a glass tank inspired by the design of a 3D printer.  A smartphone app can be used to monitor humidity, soil pH and other attributes that affect plant growth and make adjustments as necessary. What results is an optimal environment where plants may grow efficiently with relatively little maintenance from users.
"I found the name particularly fitting because a marsh is a type of wetland biome that is constantly waterlogged, but still has the ability to grow a variety of different plants," says Mundon. "By mirroring this unique and sustainable biome, the MARSH autonomously creates the necessary environment and enables plant optimal plant growth in environments where light, space, or time are in short supply."
Each contestant in the Imagineering Competition gave a short presentation and demonstration about the origin of the idea, the purpose of the prototype, design features, the build/assembly process, and a brief description of potential market and customer impact. All submissions were judged by a panel of three ENG faculty and administrators, including Associate Dean of Finance Administration Richard Lally, Associate Professor Dan Cole (ME), and Master Lecturer Jonathan Rosen (BME), on the basis of originality, ingenuity, and creativity of the project; the quality of the design and prototype; the functionality of the project; and the relationship of all these areas. Many participants took advantage of the resources BU has to offer, such as the Binoy K. Singh Imagineering Laboratory (Tinker) and the Engineering Product Innovation Center (EPIC) to construct their products.
Mundon was the recipient of the grand prize, which includes a $3,000 cash award and assistance from faculty on patent submission and market analysis for her product. The second place prize of $1,500 was awarded to Joonho Han (CE'18) for his creation of the X tablet, a fully-customizable tablet that he built from scratch in Tinker and EPIC.
Winners of the $500 Best in Class prize include:
Zachary Lasiuk (EE'17) for his IoT bar, a system designed to create a unique entertainment experience in restaurants and bars through LED light shows timed with music as well as streamlined processes for drink ordering to improve customer and staff experience.
Team Choreo, consisting of CE juniors Esen Harris, Andrew Hoang, Kai Phan and James Schulman, created a web-based platform to allow users to capture their writing process and play it back for others to see.
Lucas Watson (ME'19) for his zero-waste intelligent coffee maker that learns how to more perfectly brew different kinds of beans depending on user preference by adjusting water temperature, brew time and other parameters.
Prizes for the Imagineering Competition are provided by John Maccarone (ENG'66).