Welcome!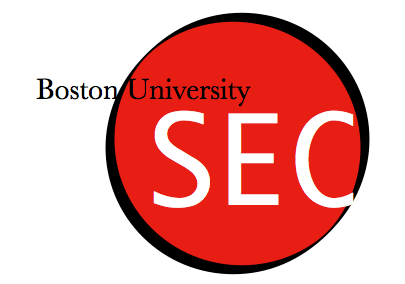 The Boston University Student Elections Commission is a student group dedicated to the fair elections of the undergraduate Student Government. It is our responsibility to facilitate these elections through the regulation of candidates, planning of events, and administration of voting platforms.
2013-2014 Official Student Government Election Results:
President:
Richa Kaul                  1884 votes √
Alexander Golob       1426 votes
Executive Vice President:
Joseph Ferme            1861 votes √
Sandra Soto                1416 votes
Vice President of Internal Affairs:
Jamie Ellis                  1866 votes √
Cassandra Shavney 1390 votes
Vice President of Finance:
Joshua Mosby           1878 votes √
Salma Yehia              1401 votes
2014 SPRING ELECTION TIMELINE
Mandatory Information Sessions for interested candidates (you must attend 1 of these in order to be eligible to run for any position): Monday, February 10 at 7 PM; Thursday, February 20 at 7 PM; Friday, February 28 at 3 PM. All sessions will be located in CAS 220.
Candidate Intent Form Filing Deadline: Wednesday, March 5 at 5 PM.
Campaigning begins: Monday, March 24 at 12 AM.
Election Kickoff in the GSU Link Lounge: Monday, March 24 from 12 PM to 3 PM.
Student Government Election Debate: Thursday, March 27 at 7 PM in COM 101.
Voting begins: Monday, March 31 at 12 PM.
Voting and Campaigning End: Monday, April 7 at 12 PM.
Election Results Announcement Dinner: Wednesday, April 9 at 5:30 PM – Location TBA.
If you have any questions, please feel free to contact us at election@bu.edu or check us out on Facebook or check us out on Twitter.
Thank you to all candidates and supporters!
Best Regards,
Boston University Student Elections Commission