Economics News, 2011
SubMAriner
LT Brent Bernkrant (U.S. Navy, MA 2011)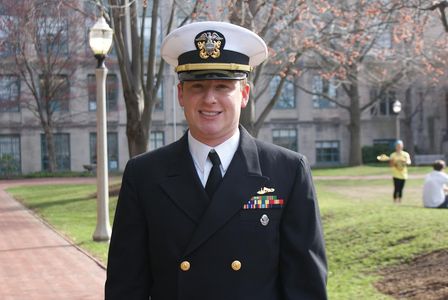 Amongst the MA graduates this year is Brent Justin Bernkrant, Lieutenant of the United States Navy and Assistant Professor of Naval Sciences at Boston University. Prior to entering the economics MA program in January 2010, Brent graduated Magna Cum Laude from Boston University in May 2004 with a Bachelor of Science in Business Administration and dual concentrations in finance and operations management. He represented BU in NCAA Division I swimming competitions and was named Boston University's Male Scholar Athlete of the Year in 2004.
Last spring, Brent and his naval colleagues led a group of BU faculty, administrators and fellow MA students on a tour to the naval base at Groton, Connecticut. The tour included the active nuclear submarine USS Virginia. Below is a short interview with LT Bernkrant.
When did you join the U.S. Navy? How did you become involved with submarines, and rise to be an Operations Officer at such a young age?
I joined the Navy ROTC program in my freshman year at BU, and was commissioned as an officer when I graduated in 2004. In my senior year I was selected for the nuclear submarine program after a rigorous application process, which involved a series of technical interviews with engineers at Naval Nuclear Reactors' in Washington D.C. After eighteen months of intensive training I reported to my first submarine – the USS Topeka out of San Diego. In the next couple of years I served in a variety of division officer billets in the submarine fleet. Enriched by this experience, I was promoted to be a department head and became Operations Officer for Submarine Naval Research 1 in October 2008. My tour on NR-1 ended in fall 2009 and I was assigned to return and teach naval sciences at BU.
How did you become interested in economics? What was your experience in the MA program?
I was interested in economics ever since my freshman year of college. I double concentrated in the School of Management as an undergraduate and the Navy ROTC program also required me to take a number of engineering courses. This study plan precluded me from taking anything other than two introductory economics courses, but I had always wanted to learn more about the subject. I really enjoyed the economics MA program and felt quite challenged in every course I took. Fortunately I have had some fantastic professors whose knowledge, competence and dedication to teaching I really admire. The theoretical background I gained by pursuing an MA in economics lends incredible insights into business and financial concepts that I never completely understood as an undergraduate.
What are your plans after earning your MA degree?
I have nine months left in the Navy serving as an Assistant Professor here at Boston University. Upon leaving the Navy as an active duty officer, I plan on joining the reserves and getting a position in civilian consulting. I have already received some very positive feedback from potential employers about my qualifications. The MA degree is going to open many doors for me in the work force.