Macroeconomics in Context
Macroeconomics in Context, Third Edition
by Neva Goodwin, Jonathan Harris, Julie Nelson, Pratistha Joshi Rajkarnikar, Brian Roach, & Mariano Torras

This text lays out the principles of macroeconomics in a manner that is thorough, up to date, and relevant to students. Like its counterpart, Microeconomics in Context, the book is uniquely attuned to economic realities. The Third Edition of Macroeconomics in Context delivers updated material on economic recovery, financial instability and inequality, deficits and debt, and "green" macroeconomics. The text also covers the critical topics of distributional equity, ecological sustainability, the quality of employment, the role of unpaid work, and the adequacy of living standards. 
The Third Edition is now available.
Paperback: $68.95   Hardback: $173.00   eBook: $32.98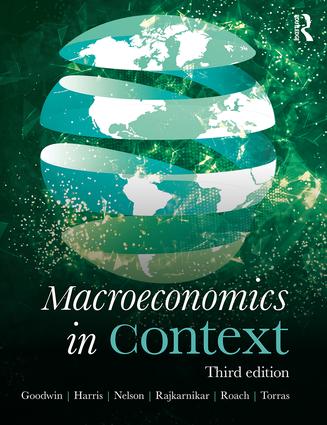 Instructors
For a free exam copy, please contact Routledge.
To access instructor only teaching materials, including test banks, contact us. Please indicate what course you teach and provide proof of your instructor status (e.g. a link to your bio).
You may also utilize Canvas, a learning management system, for automatic grading online; for more information about Canvas, read our user's guide and contact us to request access to our demonstration sites. Please specify if you are teaching the Third or Fourth Edition, and indicate where and what course you teach.
Student Supplements
Access student study guide and PowerPoint Slides for the Third Edition and Second Edition
Preview the Third Edition
Preview the Table of Contents and sample chapters:
New Material in Third Edition
The new Third Edition offers students an excellent guide to macroeconomics. The latest addition to the "In Context" series, it combines real-world relevance with a thorough grounding in multiple economic paradigms. Key features include:
Clear explanations of basic economic concepts alongside more in-depth analysis of macroeconomics models and economic activity;
Expanded coverage of topics including, inequality, financialization and debt issues, the changing nature of jobs, and sustainable development;
Thoroughly updated figures and data;
A full complement of online instructor and student support materials such as additional tables and data, PowerPoint slides and a study guide.
Praise for Macroeconomics in Context
"Macroeconomics in Context is the best text I've seen for undergraduate teaching. By paying attention to pressing issues of our time, such as environmental degradation and social inequalities, it lets students readily see why the subject of economics is important to learn. This text gives students the basics while raising questions about how we can do better."
– Valerie A. Luzadis, SUNY Environmental Science and Forestry, Syracuse
Macroeconomics in Context, Second Edition
by Neva Goodwin, Jonathan Harris, Julie Nelson, Brian Roach, & Mariano Torras


Third Edition Materials

Preview the first 24 pages

Sample chapters from the Third Edition:

Changes to the Second Edition
The Second Edition has been thoroughly updated and corrected, and includes coverage of events such as the United States subprime mortgage crisis, the debt and deficits debate, and recent Federal Reserve actions. A summary of changes is available.

 


Top of Page