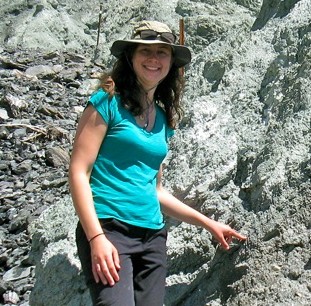 Christine Regalla
Educational Background
PhD, Geosciences, Penn State University, 2013
MS, Geosciences, Penn State University, 2009
BS, Geological Sciences, Lehigh University, 2005
Current Research
I am a field geologist whose interests are centered around where, when, and how faults accommodate active deformation and seismicity.  I investigate the timing and rates of crustal deformation using field mapping, structural analyses, tectonic geomorphology, and numerical modeling.  My work has focused on both actively deforming regions as well as ancient analogies of modern processes.
Current Projects
Identification and paleoseismic characterization of active crustal faults near population centers in southwestern British Columbia.
The structural accommodation of subducting seamounts and their role in modulating plate boundary seismicity.
Tectonic geomorphic mapping and earthquake recurrence in the Eastern California Shear zone and Northern Basin and Range.
Forearc and plate boundary structure in the area of the 2011 Tohoku earthquake, JFAST IODP expedition 343.
Neogene crustal tectonics of eastern Japan and global implications for tectonic erosion.
Courses Taught
Links