Agenda

Free-flow Conversation and Discussion
We've invited a few folk to start it up with some thought-provoking opening remarks, then it's up to us to carry it – you'll improv to turn the remarks into a convo. Dean Elmore will be on hand to stir things up as provocateur-in-residence.

---
A Premium on Chatter and Chit-Chat
Breaks are not wasted time. In between the convos, we've got chances for mix and mingle. Come ready to shake hands, move, and talk. Later on, we'll peel back the rug; nosh; revel, chat some more, and refresh at a local watering hole.
---
Important Stuff
Mark your calendar. Put it in your device. Write it down. Commit it to memory. We're getting together on February 21, 2014. We're starting at 8 a.m. with coffee and chatter. We'll break for lunch and conversation throughout the day. We expect to finish around 4:15 p.m., and probably end the day across Kenmore Square at Cornwalls.
---
The Place
After two years, it's time for a refresh. We'll be meeting at the House of Blues' Foundation Lounge just steps from both Boston University and Fenway Park.
If you take public transportation (highly recommended), you'll get off the Green Line at Kenmore Square and walk to Lansdowne Street. You will not be able to miss the colorful facade.
If you decide to drive, parking will be made available at the Kenmore Lot at 549 Commonwealth Avenue. Please register for parking when you register for the conference, and more information will be sent to you.
---
The Schedule
Here is this year's schedule. You may also download a PDF schedule.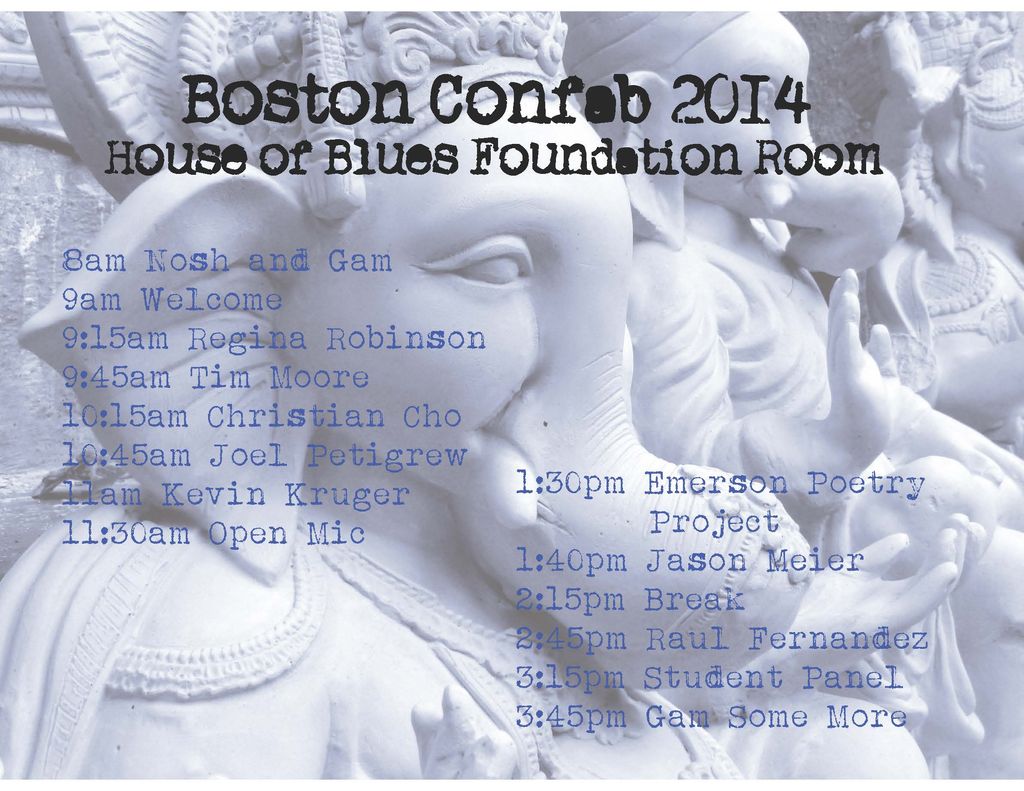 ---
Lunch Spots
The Confab's lunch time will be from 12 noon – 1:30pm. Lunch is the responsibility of the individual attendee.
Home
The Call (About)
Agenda
Registration