A note from Dean Elmore: September 25, 2020
President Brown and Dean Elmore combined for a letter to the University community on Friday, September 25, 2020. The topic of this letter is how to safely engage in any demonstrations in the coming weeks.
Dean Elmore also had additional thoughts on the topic, which can be found below.
—–
I have been in a six-month struggle with despair.
And, after six-months, a Kentucky grand jury decided not to charge Louisville police officers with the contemptable shooting and murder of Breonna Taylor. I am disappointed, but not surprised. My support for and solidarity with Black lives and with those of you standing against racism is resolute.
Now, I ask us all to be resolute to stay focused on the role of police departments in our country, the role that racism plays in the unequal and unjust application of laws that are supposed to protect human life and keep people safe, and the manner in which racism enables and results in harassment and violence against people of color by the police and, in some cases, by members of the public. Let's not let this tragedy fall into a common pattern of inaction when it comes to matters of racial justice.
In my full-on fight with despair I find being present with others – physically – to be helpful.
In six months, I have also been energized to change the way I spend my money and my time. Even with my fickle immune system, I have been called to put my body on the street with others (I keep it COVID safe for sure). I've gotten word from Boston Police that a number of rallies and protests will take place throughout Boston (here is their memo to colleges and university students on the topic.)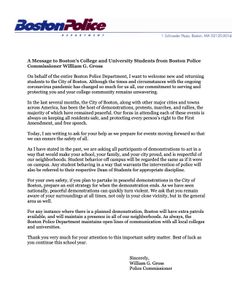 If you are going out there, please make your personal safety one of your primary concerns. Be mindful of your surroundings and keep yourself well. Be vigilant of violent and racist groups organizing to assault and cause damage. I want you to actively engage in public protest – it's democracy! But keep yourself physically, and emotionally safe. I carry this one-sheet from Healing Justice – it helps me stay emotionally well and grounded during my struggles with despair on the street: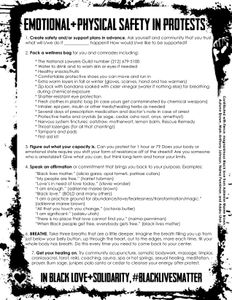 The old-school people of the Black liberation struggle we call the Civil Rights Movement became legendary when they brought their bodies together on streets, in parks, on busses, outside businesses, and in neighborhoods. They were bathed in principle; guided by liberated minds and spirits; and, resolute to fight systems and despair. I'll continue my struggle.
I hope you are able to act, reflect, and heal in a way that honors you, your loved ones, this community, and the entire Boston community.
Stay encouraged,
Kenneth Elmore
Associate Provost and Dean of Students