Help BU foster community this fall with The New Normal Challenge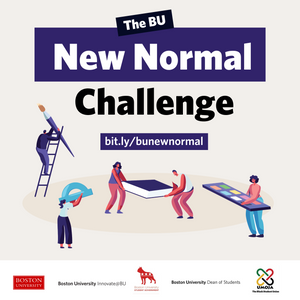 Study groups. Birthdays and celebrations. Getting around campus. Buying groceries. Do you have ideas of how we can navigate the challenges of our new normal this fall?
Participate in The New Normal Challenge and help craft solutions for life on- and off-campus!
The New Normal Challenge is an opportunity for students to submit their best ideas that will help BU foster community, connectivity and wellbeing this fall as we transition to a new way of life both on-campus, off-campus, and virtually.
The challenge has two tracks: 1) Ideas developed by students but could be implemented by the University and 2) Ideas developed and implemented by students with the help of a $500 seed grant.
This is a special opportunity for students from all parts of the University to be a part of the transition process while developing solutions in all aspects of their lives – and, to learn innovation and problem-solving skills that they can use in their lives and careers!
The New Normal Challenge is sponsored by Innovate@BU, Dean of Students Office, UMOJA, and BU Student Government.
Submissions are due August 15
Workshops + resources to help you develop strong ideas
2 tracks to choose from
$500 seed grants will be awarded to the top ideas
Learn more & RSVP for the kick-off event: bit.ly/bunewnormal