How To Prepare For Wednesday's Career Expo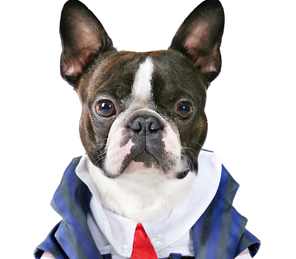 The Spring Career Expo is this Wednesday. We asked Zach Costello (SMG'14), a Center for Career Development/Educational Resource Center Student Ambassador, his advice for career fair success.
Looking for a summer internship or a full-time job? Curious about what the "real world" will bring upon graduation? Find answers to these questions and more at the Spring Career Expo on Wednesday, February 12 at the GSU!
Everyone should attend this Career Expo, I repeat: everyone. There will be employers from many different industries looking to recruit BU students to join their organizations. Whether you're a first-year student or a senior, or you're studying business, engineering, communications, or the arts, there will be employers there to discuss potential opportunities.
You might ask yourself, how do I prepare? What can I do NOW so that I'm ready to tackle this Career Expo? Here are some of my tips:
1. Look at BU CareerLink and find out which employers are scheduled to be there and the positions they are recruiting for.
2. Once you find several organizations that you're interested in, look at their websites and find out what they're all about. Researching an organization will not only help you better understand what they do, it will also impress these employers when they see how much you know.
3. Once you arrive at the Career Expo, stop by the Student Prep Lounge (in Ziskind Lounge). You'll be able to practice your elevator pitch and make some final adjustments before you head in to speak with employers. There will also be a spot where you can freshen up, get a photo taken for your LinkedIn profile, and more.
4. Get your outfit ready. The CCD has some great tips for how to dress professionally for Career Expos.
We all know that Career Expos can be a little bit intimidating. Walking up to an employer and starting a conversation can seem awkward. Just remember one thing: every single employer at the Career Expo volunteered to be there. They WANT to meet you and love seeing students who are interested in their organization. They know how bright and intelligent the student population at BU is and they are interested in bringing that talent to their organization.
Before you walk out the door in your business professional attire, make sure you have multiple copies of your resume. You might want to hand it to several employers. The CCD is having a Resume Blitz on Tuesday, February 11. Stop by to have your resume reviewed. Also, make sure to bring your BU ID!
After the Career Expo is all said and done, make sure you follow-up with the employers you met with. It is extremely important to let them know how thankful you are for their time and that you appreciated the opportunity to speak with them. When you follow up with an employer, it lets them know that you are truly interested. This goes a long way and can even land you a potential interview.
So, once you've researched the organizations, practiced your elevator pitch, and have your resume reviewed, put on your suit and get down to the Spring Career Expo this Wednesday at the GSU!
About Zach: Zach is a senior in the School of Management studying business administration with a concentration in finance. In his free time, Zach likes to watch and play sports (especially basketball). He also enjoys listening to all types of music including hip-hop and rap, traveling to different countries, spending time at his lake house in Maine, and hanging out with friends. After graduation, Zach plans to work for a prestigious firm in the greater Boston area and eventually attend graduate school.