Senior Week 2012: Today's Info for Classy Pirates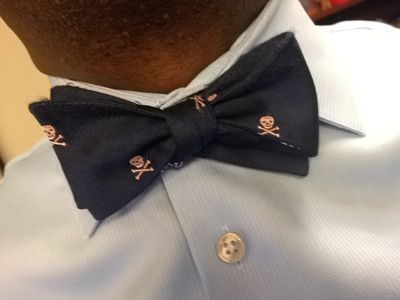 Senior Week is on the move and we're not going to let a few raindrops stop our fun? I didn't think so!
It's on! You're still dancing on the Harbor tonight. Here are few tips for folks in the know:
First, you've got to get there. The party starts on the boat at 6:45 p.m.  We're dealing with sailors – they like doing things on time.
Get to the right dock.  It's the World Trade Center pier.  There's always a person or two who go elsewhere.  If you're at the Aquarium pier, Rowes Wharf, or the BU Boathouse you're at the wrong place – hightail it over to the World Trade Center!
Now for the party.  Arrggghhh! Rumor has it that it's a pirate theme. (Really?) We recommend you class that theme out.  Lots of styles for pirates: Punk; airship; professional; Goth; Rock; historic, and, even the online-types. No for your stylist.  Save your cocktail dress or your wingtips for later in the week.
Dress warm. We know it could put a crimp in your pirate-style choice, but it could be a little chilly. Most of the decks are covered, but prep up anyway.
Don't forget to bring your ticket, your I.D., and good, old-fashioned cash – no debit or credit cards – you'll be on a boat. (A cash bar for those 21 or older will be available, but you must have a valid license or passport.)
Massachusetts State Troopers will check you in at the dock and before you get on the boat. Good idea to be on your best behavior – mouthing-off is a sure fire way to ensure you get to have dinner with me in the brig at the dock.
You get there on your own, but we'll have buses waiting to get you back to campus (should be a return to campus around midnight). Check the BU Senior Week 2012 app for directions. There's a happening scene around the Waterfront area – if you decide to stick around after the boat ride, make sure you and your friends make arrangements to get home safely.
No matter what you do, don't fall — or jump — off the boat!
(The evening's suggested hashtag: #imonaboat (if you have to ask, you're not up on it))
Finally, I can't make it on the boat. Snap and tweet a photo or two – of course, I'll be watching the photo streams.  You never know, best picture from the evening might win a prize.
You're only allowed one pirate noise or pun tonight. Have a great time.  Stay safe.
Peace.