GSDM building project clears key milestone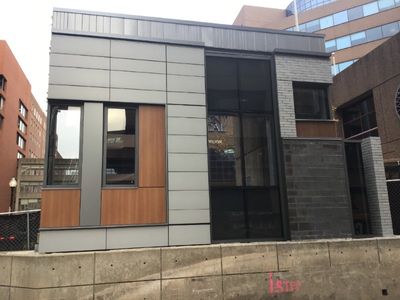 The building construction and renovation project at the Henry M. Goldman School of Dental Medicine passed a key milestone on Thursday, November 15, 2018, when the Boston Planning and Development Agency (BPDA) approved the project's exterior finishes. This approval clears the way for the second phase of the project to begin, which will include updating the entire exterior of the building.
As part of the approval process, BPDA reviewed a "mock-up" wall built by the project's construction team that included examples of the materials, colors, compositions, and other construction details that will be part of the final building. This allowed BPDA to see how the renderings of the project will translate into real life. The "mock-up" wall sits west of the main GSDM building on East Newton Street.
Darin Daguano, lead architect for the project, said the BPDA representative was "very pleased" with the mock-up and thought that the colors were even better in real life than they appeared in the renderings. She also appreciated the construction team's attention to detail, which included constructing additional exterior details to help support BPDA's review process.
"We're thrilled to receive this approval from BPDA, and are excited to begin work on the exterior of the building," Dean Jeffrey W. Hutter said. "As the 'mock-up' wall demonstrates, the new exterior at 100 East Newton will be a striking and cohesive visual addition to our neighborhood that will help anchor the ongoing revitalization along Albany Street."
As the planning and economic development agency for the City of Boston, the BPDA is tasked with planning and guiding inclusive growth, which includes comprehensive city planning to ensure Boston retains its distinctive character. The BPDA reviews all projects within Boston for construction quality, code compliance, zoning compliance, impact on the urban fabric, and design quality.
The "mock-up" wall created for the BPDA's review will remain standing for the remainder of the construction project, so that BPDA can view it as necessary throughout the project and can compare it to the final building. When in Boston, please do take the time to visit our School, the Addition & Renovation Construction Site, and the "mock-up" wall.