Alumni and friends gather for GSDM Alumni Reception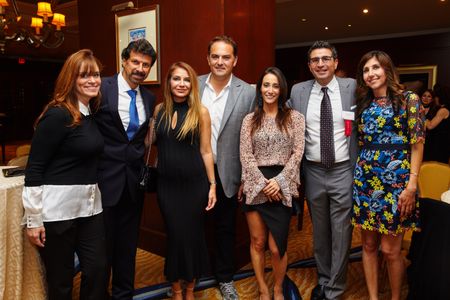 Alumni and friends of the Henry M. Goldman School of Dental Medicine filled the Aujourd'hui room at the Four Seasons Hotel Boston with laughter and memories on Friday, September 21, 2018, as they gathered for the school's annual Alumni Reception.
"Each of you … are an integral part of the Henry M. Goldman School of Dental Medicine," Dean Hutter said during his welcoming remarks. "It means a great deal to me, as dean, to see our school gather once again to celebrate all of our accomplishments, both past and present, and gather our momentum as we continue into the future."
The reception, hosted by Dean and Mrs. Jeffrey W. Hutter, kicked off an Alumni Weekend packed with events, including hard-hat tours of the building renovation at 100 East Newton Street. Representatives from nine classes – 1978, 1983, 1988, 1993, 1998, 2001, 2003, 2008, and 2013 – were back on campus to celebrate reunions and to admire the many changes already wrought by the construction project. Dr. Larry Dunham DMD 83, the school's Director of Diversity and Multicultural Affairs and a Clinical Assistant Professor, was celebrating his 35th reunion, and Dr. Harold Levin ENDO 62, who celebrated his 55th reunion last year, also attended the Friday reception.
"I am so glad that so many of you have gathered together to mark these important milestones in your respective careers," Dean Hutter said.
On Friday night, a musical trio played in one corner, and delicious food – from short rib crostini to beef sliders to miniature fish and chips served in old-fashioned clam boxes – was available at every turn. Alumni circulated around the room, greeting old friends and new with hugs, handshakes, and cries of, "It's so good to see you!"
In his remarks, Dean Hutter acknowledged and thanked all the members of the Dean's Advisory Board, as well as other special guests who were in attendance, for their leadership and their commitment to GSDM. Dean Hutter also presented the 2018 Distinguished Alumni Award to Dr. Arghavan Shahidi DMD 01 for her contributions to the field of dental medicine (see separate story).
GSDM Alumni Association President Sean Rayment DMD 97 DSc 00 extended a special thanks to the members of GSDM's Alumni Association Board who were in attendance on Friday night.
"This was the largest group of Alumni Board members that have been together in over a decade – and it might be an all-time record," he said.
The passion that GSDM alumni have for their alma mater is recognized across the university, said Dr. Shadi Daher DMD 90 OMFS 94, a Past-President of the GSDM Alumni Association and current member of the Boston University Board of Overseers.
"When I show up to any meeting at the university, they know I am representing some hard-core Boston University people," Dr. Daher said to applause. "They know what we stand for. They know how much love we have for our school."
The support and commitment of GSDM alumni, alongside Dean Hutter's leadership and vision, have been critical to helping the construction project at 100 East Newton get off the ground, said Dr. David Lustbader CAS 86 DMD 86, who chairs the Dean's Advisory Board.
"We've talked about [the need for a new building] for a long time, but … that dream is now a reality," Dr. Lustbader said. "The construction is well underway. … It's an amazing project, and it's no small feat of engineering to get this done and to keep the school running."
Christy Murphy, a senior project manager with Compass Project Management, was on hand at the Alumni Reception to give an update on the building project. The first phase of work, which will include a new patient entrance on Albany Street and renovations to the basement and first floor, is well underway and is expected to be completed in early 2019. Right now, an average of 70 to 80 workers are on site each day, and an additional 50 to 75 subcontractors are working on the project from other locations.
"It's an honor to be the steward of making the dream a reality," Murphy said. "On behalf of the project team, we have the same enthusiasm for this project as Dean Hutter and all of you."
In the project's second phase, seven-story and two-story additions will be built on two sides of the building, and the building's entire exterior façade will be replaced. At the completion of that phase in early 2020, the project will "look" done, Murphy said, but the renovation work will continue through two more phases, which will focus on the fifth and sixth floors and will also include upgrades to the building's bathrooms and elevators. That work will be completed in 2020 and early 2021. (For more information on the construction and renovation project at 100 E Newton Street, please visit our website at bu.edu/dental/alumni/building.)
"I want to thank the GSDM leadership team," Murphy said. "This is a highly complex project and without their enthusiasm and forward-thinking and proactivity and dedication, we couldn't do this."
Photos from the receptions are available on Flickr.