GSDM Hits a Homerun on Giving Day 2018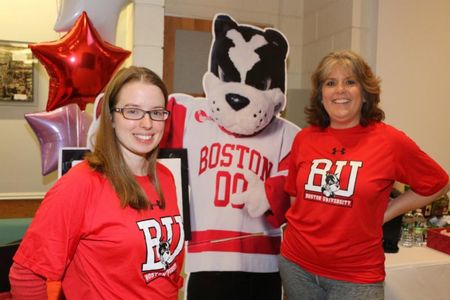 Throughout the day on April 11, 2018, the Henry M. Goldman School of Dental Medicine (GSDM) raised over $120,000 during Boston University's annual Giving Day. Thanks to the generous donations of our alumni, friends, faculty, staff, students, and residents, GSDM nearly doubled last year's contributions. When compared to the other 17 schools and colleges within the university, GSDM placed fourth in dollars raised and fourth in number of donors.
This year's matching donor was Gentle Dental, thanks to Mr. Geoff Ligibel, Gentle Dental CEO and GSDM Dean's Advisory Board member. Additional matching donations came from GSDM Alumni Association President Dr. Sean Rayment DMD 97 DSc 99 and Dr. Thanos Zavras, Chair, Department of Pediatric Dentistry. Dr. Rayment matched all pledges from his classmates in the DMD 97 class, and Dr. Zavras matched all gifts to the Pediatric Dentistry Fund.
At 100 East Newton Street, Ms. Stacey McNamee, Director, Alumni Relations & Annual Giving and Ms. Katie O'Shea, Development Program Officer, spent the day in the School lobby helping promote Giving Day to students, residents, faculty and staff. In addition, various challenges throughout the day saw a spike in the School's social media interactions, such as fun photos of pets and babies in their best BU gear.
Kevin Holland, Assistant Dean of Development & Alumni Relations, noted how engaged the GSDM community was this year, which helped GSDM jump from sixth to fourth in number of donors out of all 17 schools and colleges. "We were getting texts at midnight from Alumni Board members, and alumni on the West Coast, all determined to help GSDM make the top five."
This year's Giving Day was even more special, as GSDM is in the midst of construction for our new expansion and renovation project. This year's Giving Day also brought in a donor who named one of the new Patient Treatment Rooms, bringing the total named to 49 out of 100. More information about our campaign to name 100 Patient Treatment Rooms in the new Patient Treatment Center can be found HERE
"On behalf of the entire Henry M. Goldman School of Dental Medicine, thank you to everyone who made Giving Day such a tremendous success," said Dean Jeffrey W. Hutter. "This is a transformative time in our School's history, and your contribution will ensure the dental students and residents of tomorrow receive the best education possible."