#BUGivingDay Wednesday April 11, 2018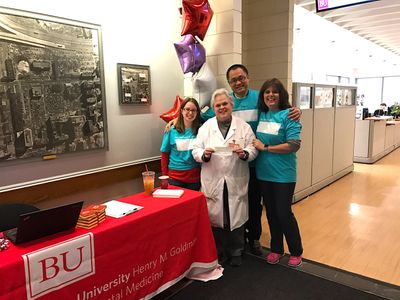 Giving Day 2018 is TOMORROW, and we are counting on support from faculty and staff, as well as our alumni during this 24-hour period. Participation counts, and last year we were in the top five of all 17 schools and colleges at the University. This year your dollars go even further, as Gentle Dental will be the matching donor thanks to Mr. Geoff Ligibel, Gentle Dental CEO and GSDM Dean's Advisory Board member.
Your donations help support our scholarship funds, send students across the globe to promote oral health, and aid in our addition and renovation capital campaign. Watch faculty members Dr. Hesham Nouh HERE and Dr. Cameron Shahbazian HERE discuss why it's so important to support the school on this day.
There are many ways to be involved in the 24-hour whirlwind that is Giving Day. Throughout the day, there are various challenges sponsored by the University including one that involves pets and babies! We will have the university leaderboard displayed on our 1st floor, so stay tuned to see how GSDM is competing against the other schools and colleges. Come find us off the lobby on Wednesday, April 11th, where Stacey McNamee and Katie O'Shea will be located. Look for the balloons, BU goodies, and treats, for those making a gift that day. Again, we are competing with the other 16 schools at the University, for number of gifts and participation.
In addition to Gentle Dental, other faculty and alumni will offer challenges. Thanks to Dr. Thanos Zavras, Professor and Chair, Department of Pediatric Dentistry, who will be matching gifts to the Pediatric Dentistry Fund on Giving Day.