Molecular and Cell Biology Faculty Receives New Grant Support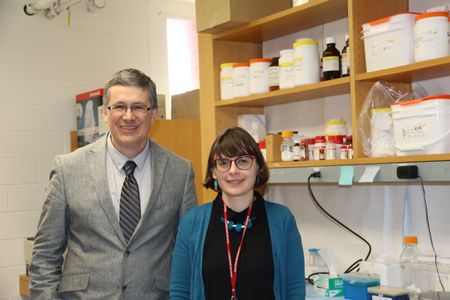 Two members of the Molecular and Cell Biology Faculty at the Henry M. Goldman School of Dental Medicine (GSDM) were recently awarded two grants totaling nearly half a million dollars. Dr. Miklos Sahin-Toth and Dr. Giulia Bandini received grant funding from the National Institute on Alcohol Abuse and Alcoholism (NIAAA) and the Mizutani Foundation, respectively.
Dr. Sahin-Toth, Professor in the Department of Molecular and Cell Biology and Director for the Center for Exocrine Disorders, will be studying the effects of alcohol on protein misfolding. The two-year, $430,000 grant from the NIAAA, was awarded for studies on the role of alcohol-induced protein misfolding in debilitating exocrine disorders such as chronic pancreatitis.
The second grant was awarded to Dr. Giulia Bandini, Research Assistant Professor who works under the mentorship of Professor John Samuelson in the Department of Molecular and Cell Biology. The grant of $25,000 was awarded by the Mizutani Foundation for Glycoscience to study the activity and function of the SPY glycosyltransferases in Toxoplasma gondii and Cryptosporidium parvum, two medically relevant parasites.
"Congratulations to Dr. Sahin-Toth and Dr. Bandini on their research and successful grant applications," said Dean Jeffrey W. Hutter. "We are very proud to have them on the faculty of GSDM."