Four GSDM Alumni Named to MDS "Ten Under 10" at Yankee Dental Congress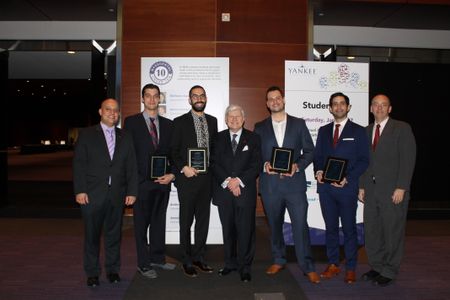 On Saturday, January 27, 2018, four alumni of the Henry M. Goldman School of Dental Medicine (GSDM) were named to the prestigious "Ten Under 10" program by the Massachusetts Dental Society (MDS). Dr. David Lustbader CAS 86 DMD 86, Chair of the GSDM Dean's Advisory Board and President of the Massachusetts Dental Society, announced the names of Dr. Yonathon Dassa DMD 14, Andrew Mancini DMD 15, Mike Mayr DMD 16, and Paul Nardi DMD 13 as the four GSDM honorees.
Dr. Dassa graduated from GSDM in 2014, and is currently the Director of the Gentle Dental branch in Brookline, Massachusetts. When he isn't practicing general dentistry himself, Dr. Dassa oversees a staff of five. Dr. Dassa overcame insurmountable odds to graduate with his DMD, having been diagnosed with stage 4 cancer while at GSDM.
Dr. Mancini began shadowing his local dentist in Lynnfield, Massachusetts, long before he got to GSDM. He recognized quickly that he wanted to stay in healthcare in order to help people. Today, he is the director of the Gentle Dental branch in Jamaica Plain, Massachusetts, where he oversees a staff of seven.
The third honoree, Dr. Mayr, is the youngest GSDM alumnus to make the list. He currently practices at Harmony, a holistic dental practice in Boston that focuses on a comprehensive approach to the patients' overall health. Dr. Mayr is an accredited member of the International Academy of Oral Medicine and Toxicology, and specializes in occlusal bite disorders.
The final GSDM graduate on the list is Dr. Paul Nardi. He practices at the Nardi family dental practice in Springfield, Massachusetts alongside his father, where they specialize in cosmetic, general, and restorative dentistry. While at GSDM, Dr. Nardi took part in many community service outreach programs, most notably at St. Mary, Jamaica with the Jamaica Awareness Association of California.
The "Ten Under 10" program was created to recognize MDS member dentists who have been in the profession for ten years or less, and show enthusiasm for the profession, organized dentistry, and caring for their patients. The MDS Journal has been compiling this list since 2005. To qualify, dentists must have graduated from dental school in the last ten years, be current MDS members, and have made significant contributions to the profession, their community, organized dentistry, or all of the above.
"Congratulations to the GSDM honorees on the MDS Ten Under 10 List," said Dean Jeffrey W. Hutter. "It is a testament to the quality of our students, our graduates and our dental education that we continue to have alumni named to this program."