GSDM Alumna Named to Texas State Board of Dental Examiners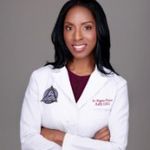 Kimberly Haynes-Reese DMD 09 AEGD 10 was recently named to the Texas State Board of Dental Examiners for a one-year term. She was appointed by Texas governor Greg Abbott, and is one of only three new appointees to the Board.
The Mission of the Texas State Board of Dental Examiners is to protect the public's health and safety and promote high quality and safe dental care by providing enforcement, licensing, peer assistance, and related information services to licensees and their patients.
Dr. Haynes-Reese currently practices in College Station, Texas, where she is a general dentist and owner of Haynes Dental, PLLC, an Aspen Dental practice. She is a member of the American Dental Association and the National Dental Association. While at GSDM, Dr. Haynes-Reese excelled in and out of the classroom. She was Vice President of the GSDM chapter of the Student National Dental Association (SNDA), where she played a key role in increasing membership and volunteerism from the organization. She also volunteered on the Annual Medical Education Mission Trip through the Jamaica Awareness Association of California, and continued to volunteer on this mission after graduation.