CEREC Continuing Education Course Features On-Site Live Patient Demonstration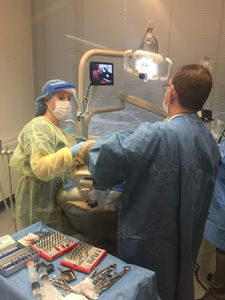 On Thursday, October 26, 2017, the Henry M. Goldman School of Dental Medicine (GSDM) continued to show why it is the leader in Digital Dentistry, as the GSDM Office of Continuing Education hosted a full-day CEREC continuing education course that featured a live patient demonstration. Dr. Alexander Bendayan, Clinical Associate Professor, Department of Restorative Sciences & Biomaterials and Assistant Dean for Digital Dentistry & Clinical Training; Dr. Ruben Figueroa, Clinical Associate Professor, Department of Oral & Maxillofacial Surgery; and Dr. Hesham Nouh, Clinical Assistant Professor, Department of General Dentistry and Director of Prosthodontics and Restorative Dentistry in the Department of General Dentistry were the instructors for the course.
This course provided a systematic approach to learn how to incorporate Guided Surgery technology into one's practice, discussing restoration driven implant placement, digital treatment planning and workflows for fabrication of surgical guides as well as the equipment required to do so.
As CAD/CAM (CEREC) technology and 3-D imaging (CBCT) systems continue to become more sophisticated,  guided surgery the placement of implants has also become more available and affordable for both providers and patients alike. This course aimed to provide the participants with the abilities needed to digitally treatment plan implants, and to design and mill surgical guides for guided surgeries using an in-house milling unit. Recommendations based on best practices were discussed to assist the participants with organizing their busy schedules to incorporate 3-D imaging and digital dentistry with improved efficiency.
The day began in the GSDM computer lab in room 309, where Drs. Bendayan and Nouh walked the group through digitally planning implants, how to read CBCT data, and mastering design of CEREC guides 2.0 for single implant placement. They were instructed on the proper use of Galileos© Implant Planning Software and milling of a CEREC guide 2.0© in preparation for the live patient demonstration. The afternoon session was the highlight of the day, as the group observed Dr. Figueroa perform a surgically guided placement of an implant.
Following the observed procedure, Drs. Bendayan and Nouh took questions from the group and discussed the practical implications for each participant's practice.