GSDM Volunteers at Countdown to Kindergarten for 14th Consecutive Year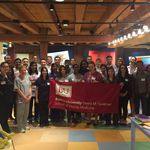 On Tuesday, August 29, 2017, students, residents, faculty and staff from the Henry M. Goldman School of Dental Medicine (GSDM) volunteered at the 18th Countdown to Kindergarten event, held annually at Boston Children's Museum. The GSDM volunteers engaged children in dental screenings and a variety of oral health activities and lessons.
Countdown to Kindergarten is an annual information session and celebration designed for families with children who will soon be entering kindergarten in the Boston Public School system. The organization works to engage children, families, and educators in a citywide effort to both enhance early learning opportunities, and ease the transition into kindergarten.
Countdown to Kindergarten recommends five steps that parents should follow in order to ensure that their child is ready for kindergarten. The steps are: Visit & choose a school; register for the school; meet your school; get ready for school; and start school. Countdown to Kindergarten Boston is a non-profit collaborative that engages families, educators, and community members in a city-wide effort to celebrate and support the transition into kindergarten, a significant educational and developmental milestone for children and their families.
GSDM's participation in the event was planned by the Boston University American Student Dental Association (BU ASDA) in collaboration with the Office of Global and Population Health (GPH). The event provided an opportunity for GSDM students to learn about oral health issues relevant to young children and to interact with parents and their children.
"I want to thank each and every one of our volunteers for their time and expertise at Countdown to Kindergarten. It really takes the efforts of students such as ours for GSDM to effectively participate in these types of programs." said Clinical Instructor in the Department of Health Policy & Health Services Research and Oral Health Promotion Director Kathy Lituri. "I am confident that we made a positive impact on the children and parents we engaged with."
The GSDM volunteers offered age appropriate, hands on, interactive activities as well as oral health information and dental screenings. The volunteers were at the Countdown to Kindergarten event from 4:30 p.m. to 7:30 p.m.  teaching the children and their parents about the importance of good oral health.
The organizers estimated that over 800 families attended. When the event was over, the GSDM volunteers had screened 75 children and interacted with hundreds more about oral health.
"I am very proud of the GSDM students, residents, staff and faculty who took time out of their busy schedules to teach young children and their families valuable lessons about oral health at the Countdown to Kindergarten event," said Dean Jeffrey W. Hutter.
Student Volunteers
Mahmoud Al Homsi DMD AS 19, Bakr Amin DMD 18, Giovanni Avila DMD 21, Nelson Carpenien DMD 21, Lindsay Cathcart DMD 21, Christine Chiao DMD 19, Poojan Dhanesha DMD AS 19, Rowan Doyle DMD 19, Ibi Etomi DMD 21, Swara Fadnis DMD 21. Andrea Fernandez DMD 21, Christian Ford DMD 20, Rebecca Gollub DMD 20, Aseel Ismail DMD 21, Ryan Johnson DMD 21, A.J. Kivel DMD 21, Sol Lee DMD 19, David Levy DMD 20, Edith Lin DMD 19, Ajisa Liti DMD 21, Shawn Mathew DMD 20, Dionne May DMD 21, Stephanie McCarthy DMD 20, Miguel Moreno DMD 20, Mohammad Mourad DMD AS 19, Leslie Naritoku DMD 21, Milena Nersesyan DMD AS 19, Jayesh Patel DMD 18, Eugene Peng DMD 20, Divya Puri DMD 19, Victoria Ramos DMD 21, Maria Sqapi DMD 21, Ben Udas DMD AS 19, Anisha Uppal DMD 19, and Jungsun Yoon DMD 20.
Faculty/Other Volunteers
Ms. Gladys Carrasco, Deyar Dashti, Ms. Dee Devlin, Pradeep Gade, Dr. Roxana Hashemian PROS 12, Kamath Komal, Ms. Kathy Lituri, and Kinjal Mehta.
Photos from the event can be found on Facebook.