GSDM Holds First Reception at the National Dental Association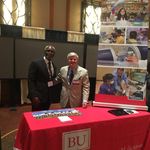 The Henry M. Goldman School of Dental Medicine (GSDM) had a heightened presence at the 104th annual National Dental Association (NDA) Convention, held in Dallas, Texas from July 19-23, 2017. Since 2012, Dean Jeffrey W. Hutter, along with Dr. Larry Dunham, GSDM Director of Diversity & Multicultural Affairs, faculty and students, have attended this annual conference.
This year marked the first time a reception was held by GSDM, demonstrating Dean Hutter's commitment to grow a relationship between GSDM and the NDA.  Hosted by Dean Hutter and Dr. Dunham, Dean Hutter spoke to a mixed group of alumni, current and prospective students, leaders of the NDA and colleagues, where he stressed our academic strength, the supportive cultural environment of GSDM, and our mission for the future.   He also shared with the attendees plans for GSDM's Addition/Renovation Construction Project.
Dr. David Russell, the newly appointed Assistant Dean of Admissions, was also present for the recruitment session and reception, as Dean Hutter and Drs. Dunham and Russell addressed interest in and questions about both GSSM pre-  and postdoctoral programs from prospective applicants. GSDM had the strongest executive and faculty presence at this year's conference as the outreach of our Dean, Assistant Dean for Admissions, Director of Director of Diversity & Multicultural Affairs and GSDM faculty is registering nationally and internationally in the dental community.
The NDA has a long history of recruiting and educating dentists from underrepresented populations.  It is an organization that welcomes all people and focuses on health and economic disparities of underserved communities.  The missions of GSDM and NDA are closely aligned.  The inclusion of candidates from broadly diverse backgrounds is encouraged and supported by both institutions. Dr. Gregory Stoute, former Director of Diversity and Associate Professor at GSDM helped to raise our profile in the southwest region.  While Dr. Wallace Bellamy, GSDM graduate, continues to aid our efforts to recruit prospective students from underrepresented groups on the west coast.
"I would like to thank all the participants that helped to make this conference successful and enjoyable," said Dr. Larry Dunham, Director of Diversity and Multicultural Affairs at GSDM. "Special thanks to all those listed above and Ms. Stacey L. McNamee, Director of Alumni Relations and Annual Giving, Ms. Diane Dougherty, Meetings and Events Department, and Ms. Amanda Warren, Assistant Director, Meetings and Events."