GSDM Has Strong Showing at IADR/AADR/CADR Annual Meeting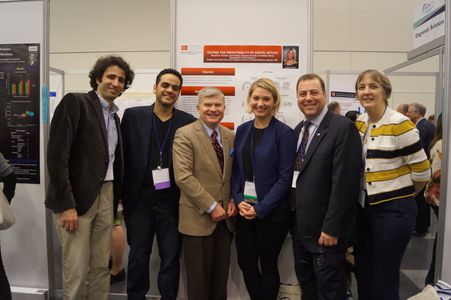 The joint International Association for Dental Research (IADR), American Association for Dental Research (AADR) and Canadian Association for Dental Research (CADR) General Session & Exhibition was held in San Francisco on March 22-25, 2017. Dozens of faculty, students, residents, and staff from the Henry M. Goldman School of Dental Medicine (GSDM) presented at and attended this prestigious conference. This year's meeting attracted over six thousand researchers for four days of workshops, keynote speakers, oral and poster sessions, symposia, and an exhibition.
During the meeting, Dr. Raul Garcia, a longtime faculty member of GSDM, was inducted as the President of the AADR for 2017-2018. Dr. Garcia, Chair of the Department of Health Policy and Health Services Research,  also serves as the co-Director of the Northeast Center for Research to Evaluate and Eliminate Dental Disparities (CREEDD). The AADR is the largest division of the IADR with nearly 3,500 members nationwide.
Students, residents and faculty were well-represented across the meeting's events. Twenty-eight students and residents participated in the poster session and ten gave oral presentations. Faculty also presented, as well as speaking in multiple symposia, including the President's Symposium: Visions on Oral Health vs. Systematic Health. Dr. Belinda Borrelli, Director of Behavioral Science Research, participated in the Mentoring and Networking Lunch on Wednesday. A complete list of the GSDM students, residents and faculty who presented is available on the GSDM Research website.  Edith Lin, DMD 19, was also recognized with an AADR Student Research Fellowship.
On the evening of Friday, March 24, 2017, GSDM and the University of Manchester School of Dentistry (UofMSD) UK, held a joint reception in the Marriott Marquis Hotel. The UofMSD and GSDM recently signed a Memorandum of Understanding, signaling the collaboration of both Schools in the International Elective Exchange Externship Program.  The Schools are now engaged in establishing research collaborations.  Dean Hutter and Mrs. Kathy Hutter greeted the guests, including faculty, students, residents and alumni from both schools as well as educators and researchers from institutions across the globe. Well over one hundred people attended to network and socialize, keeping the reception room packed from start until finish.
On Saturday morning, March 25, 2017, GSDM and UofMSD hosted a joint symposium on Emerging Opportunities for Head & Neck Cancer Therapy.  Dr. Belinda Borrelli chaired the symposium, and both Dr. Maria Kukuruzinska, Associate Dean for Research and Professor in the Department of Molecular & Cell Biology, and Dr. Ann Marie Egloff, Research Associate Professor in the Department of Molecular & Cell Biology, gave presentations on their research findings pertaining to Neck & Neck Cancer.
In the exhibition hall, students and staff manned the GSDM booth. There was a high level of interest in both academic programs and research opportunities, with a steady influx of visitors on both days of the exhibition. The student volunteers at the table offered prospective applicants a unique, student-centered perspective, which kept visitors engaged and highly interested in the opportunities at GSDM.
"I was very pleased by the number of GSDM faculty, students and residents participating in this important meeting, as well as the outstanding research presented," said Dean Hutter. "I was also especially pleased to witness the induction of Dr. Raul Garcia as President of the AADR."
The 2018 AADR meeting will be held in Fort Lauderdale, Florida, from March 21 through March 24.
Photos from the IADR/AADR/CADR annual meeting can be found on Flickr.