BU Giving Day 2017 Breaks Records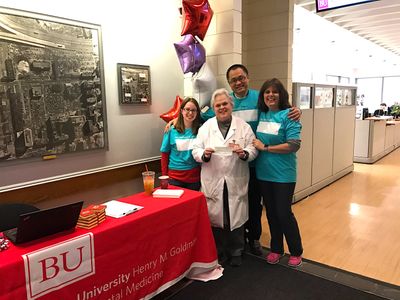 April 5, 2017 will go down in the Boston University record books as the most successful Giving Day in history, with over $2.3 million dollars in donations received. The Henry M. Goldman School of Dental Medicine (GSDM) yet again exceeded previous earnings, ranking in the top 5 schools at the University. GSDM's total gifts received from the GSDM community for the 24-hour period was approximately $76,000. That number is still subject to increase, as donations are still being tabulated. Overall, GSDM came in 5th place among all 17 BU schools and colleges in total donation amount, and 6th place in number of donors. A total of 270 members of the GSDM community donated on Giving Day.
GSDM topped its 2016 Giving Day total for amount of money raised. During Giving Day 2016, on April 6, 2016, GSDM raised approximately $60,000. Giving Day 2017 saw more than a 25 percent increase in funds raised.
Donations on Giving Day 2017 came from all areas of the GSDM community: alumni, faculty, staff,  predoctoral students, and postdoctoral students/residents.
"It's a testament to our alumni and the GSDM community that we ranked fifth out of 17 schools this year in total earnings," said Kevin Holland, Assistant Dean for Development & Alumni Relations. "Despite a total GSDM alumni population of approximately 7,800, we consistently rank with the largest schools and colleges at the University."
A key contribution from Dr. David Lustbader CAS 86 DMD 86 and Chair of the GSDM Dean's Advisory Board to match every donation dollar for dollar up to $10,000 helped make Giving Day 2017 such a success. Dr. Athanasios Zavras, Professor and Chair, Department of Pediatric Dentistry, also matched all donations made to the Department of Pediatric Dentistry.
"Thank you so much to everyone in the GSDM community who made Giving Day 2017 our best yet," said Dean Jeffrey W. Hutter. "As always, we will continue to look toward our network of alumni, faculty, staff, residents, and students, to continuously support GSDM as we work to improve upon our reputation both nationally and globally, achieving our vision of being the premier institution promoting excellence in dental education, research, oral healthcare, and community service in order to improve the overall health of the global population."