GSDM to Participate in Give Kids a Smile Day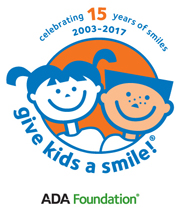 On Saturday, November 19, 2016 the Henry M. Goldman School of Dental Medicine (GSDM) will be participating in the 15th Annual Give Kids a Smile Day, a nation-wide program sponsored by the American Dental Association (ADA), Henry Schein, Procter & Gamble, and DEXIS.
In a collaborative effort with the Massachusetts Dental Society/Metropolitan District, Mt. Ida College Dental Hygiene Program, and GSDM, nearly 60 children and their families will receive screenings and treatment in the GSDM Patient Treatment Center. Approximately 11 pediatric dentistry residents, four Advanced Education in general Dentistry (AEGD) residents, 11 faculty members, ten staff members, and over 90 volunteers will be on hand to make Give Kids a Smile Day a great success.
"Many of the families have heard the message about the importance of early dental visits and establishing a dental home," said Kathy Lituri, Oral Health Promotion Director and Clinical Instructor, Global and Population Health. "Although some of the children have been to a dentist before, several of the parents have said that they are looking for something more personable and more specialized."
Children ranging in ages from 9 months to 18 years old are registered and will visit during one of the three, two-hour sessions scheduled for the event. Transportation will be provided in the form of free busing, so all families can make it to their appointments hassle-free. Goody bags will be provided to every child courtesy of Colgate, and be on the lookout for volunteers in various costumes; the tooth fairy, a tooth brush, and even Captain Cavity Fighter.
Lastly, the cafeteria will be set up as an educational center, where there will be tables with information on various oral health topics for adults. Additionally, there are plans for hosting many age-appropriate hands on games and activities for the children.
Our mission is to serve our community to improve the overall health of the global population, and Give Kids a Smile Day directly aligns with that goal," said Dean Jeffrey W. Hutter, "I applaud our faculty, students, and residents for playing a vital role in the success of this event."