APEX Students Present on Research Projects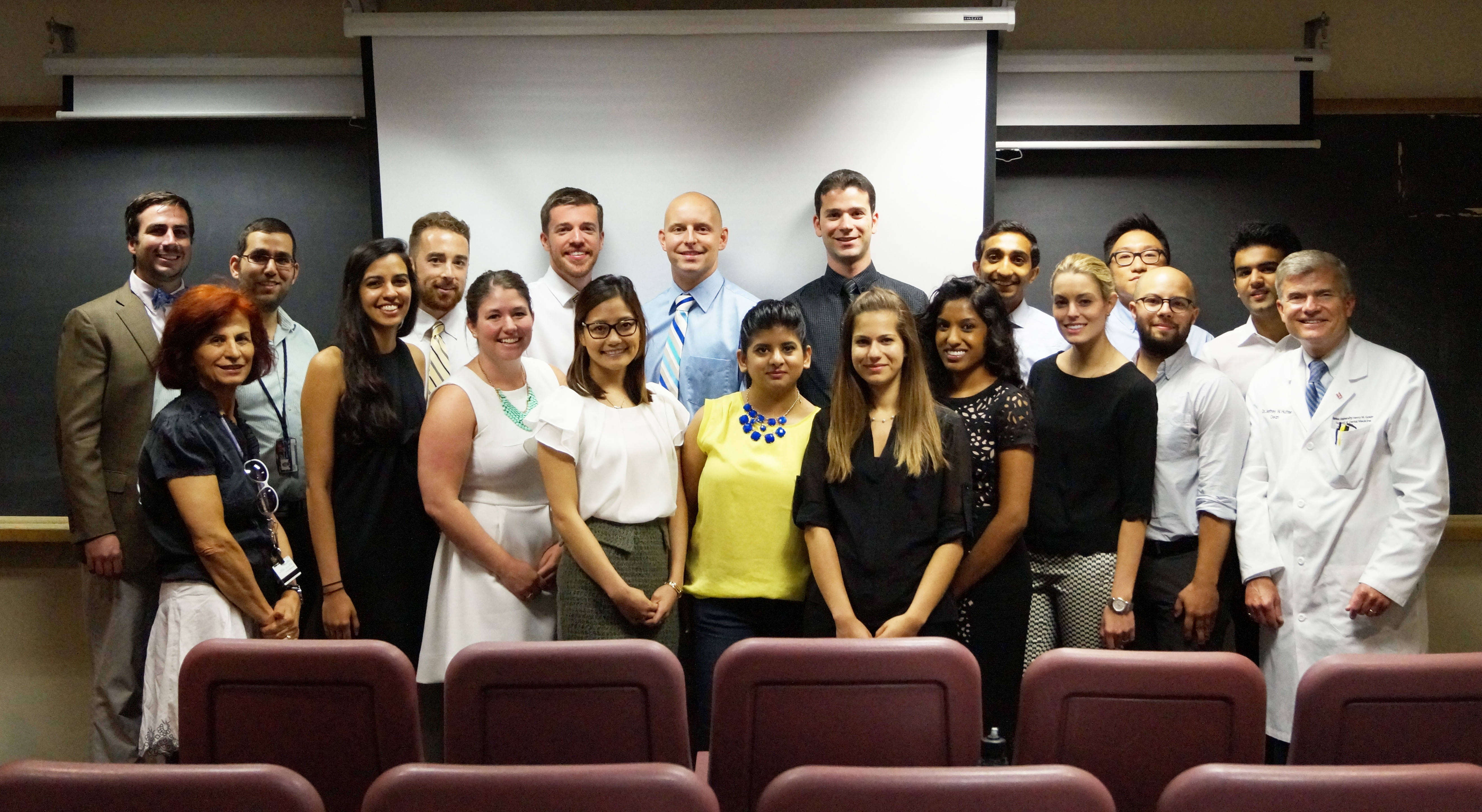 On August 17, 2015, DMD 18 students presented their research to Boston University Henry M. Goldman School of Dental Medicine (GSDM) faculty and fellow students.
These presentations were part of the APEX (Applied Professional Experience) rotation, and addressed a variety of topics. The students presenting showcased a wide range of research, including literature reviews and basic science experiments, offering an insightful, nuanced look at many topics related to dental medicine.
The APEX program is a unique learning opportunity offered by GSDM that integrates classroom learning and hands-on experience, giving dental students the opportunity to engage with practicing dentists and principal investigators in a professional setting. After completing their research training, APEX students present their findings.
"The presentations by DMD 18 students in the APEX rotations were all very impressive," said Dean Jeffrey W Hutter. "The students who presented should be very proud of their hard work."
Some presentations explored a public health or epidemiological angle, such as presentations on child Oral Health Quality of Life and disparities in access to Oral and Maxillofacial Surgery providers in Massachusetts. Others focused on specific pathways or genes, including presentations on the role of N-Glycosylation in immunosuppression, salivary biomarkers in periodontal disease, and tropomyosin as a regulator of intracellular pressure.
"The presentations this year were of an exceptionally high standard and showcased the depth and breadth of research being conducted at the school," said Associate Dean for Research and Professor in the Department of Molecular and Cell Biology Dr. Maria Kukuruzinska. "I commend these students for their participation in research and I am grateful to all of the mentors for their dedicated support and guidance."
At the end of the presentations, the Student Research Group announced the appointment of the following SRG officers for 2015-2016: Mohamed Bayoumy, President; Michael Whitcomb, Vice President; Jayesh Patel, Secretary; Thomas Santacroce, Treasurer.
The projects presented were (student presenter in bold):
Seyedehsadaf Mostafavian, Sivge Kurgan, Olivia Nguyen, Shannon Walsh and Alpdogan Kantarci. Department of Periodontology, Forsyth Institute: "Effects of Resolvin D2 on Adverse Pregnancy Outcomes Associated with Periodontal Disease."
Stephen Coletti, Cindy Christansen, Mohamed Ahmed and Sami Chogle. Department of Endodontics: "A Survey of Dental Professionals' Understanding of Regenerative Endodontic Procedures (REPs)."
Michael Faibish, Ryan Petrie and Kenneth Yamada. Cell and Developmental Biology Section, National Institute of Dental and Craniofacial Research/National Institutes of Health: "Tropomyosin as a Regulator of Intracellular Pressure."
Kyle Glass and Sunil Shaw. Kilgus Research Institute, Women & Infants Hospital, Providence RI: "Investigating the Role of Innate Immunity in Intravascular Candida parapsilosis Infections."
Duwaraka Gunarajasinga, Michelle Henshaw, Judith Jones and Corrina Culler. Department of Health Policy and Health Services Research: "Child OHQoL: What, Why, How, and Future Implications."
Matthew Jones and Judith Jones. Center for Clinical Research: "Literature Review: Salivary Biomarkers Related to Type2 Diabetes and Metabolic Syndrome."
Anum Khan, Steven Higgins and Paul Higgins. Department of Cell Biology, Albany Medical Center: "Study on Expression of PAI, PPM1A and PTEN in Tongue Cell Carcinoma."
Corrine Kunkle, Arif Mamdani and Athanasios Zavras. Department of Pediatric Dentistry: "The 30 Second Elevator Pitch for the Pediatric Dental Population."
Shelly Lee, Maria Soriano-Carot and David Levin. Department of Molecular and Cell Biology: "Screening for Genes that Regulate RNR3 Expression in Response to DNA Damage in Yeast."
Sasha Manchanda, Edvande Filho and Maria Kukuruzinska. Department of Molecular and Cell Biology: "The Role of N-Glycosylation in Immunosuppression in Oral Squamous Cell Carcinoma."
Jaehyuk Choi and Woosung Sohn. Department of Health Policy and Health Services Research: "Complications Associated with Fixed Orthodontic Treatment: A Systematic Review."
Jayesh Patel, Abdul Alshammari, Jacob Al-Hashemi and Salomon Amar. Department of Molecular and Cell Biology: "Morphometric and Histomorphometric Analysis of Alveolar Bone Loss in Mice with Induced Periodontitis."
Thomas Santacroce, Manish Bais, Pushkar Mehra and Richard Dinnocenzo. Department of Oral and Maxillofacial Surgery: "LOXL-2 Expression Level and its Correlation to Degenerative Disease of the TMJ."
Megan Sullivan, George Gallagher and Vikki Noonan. Division of Oral and Maxillofacial Pathology: "The Root of the Problem: Occurrence of Typical and Atypical Periapical Pathologies."
Matthew Williams, T.J. Dyer, Becca Stewart-Bermon and Andrew Salama. Department of Oral and Maxillofacial Surgery: "Access to Care Disparities Amongst OMS Providers in Massachusetts."
Saeed Yazdianpour, Ywei Fan and Russell Giordano, Department of Restorative Sciences & Biomaterials: "Mechanical and Esthetic Properties of Zirconia with Various Sintering Conditions."
Kushal Zinzuvadia and Judith Jones. Center for Clinical Research: "Salivary Biomarkers in Periodontal Diseases."