BU ASDA Chapter Wins Big at 2014 Annual Session; Next Up in Boston 2015: Ideal Chapter Award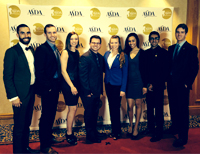 It was a standout year for the Boston University chapter of the American Student Dental Association (ASDA) at the 2014 ASDA Annual Session in Anaheim, California, February 26–March 1, 2014. The BU chapter put forward two resolutions (one of which is now part of National ASDA policy) and won 3 out of 33 ASDA awards, ranking fourth overall among the 65 US dental schools.
The following students represented Boston University Henry M. Goldman School of Dental Medicine at the 2014 ASDA Annual Session: Rushil Dang AS 15, Sameet Gill DMD 14, David Lane DMD 16, Matthew Mara DMD 16, Mike Mayr DMD 16, Jessica Metcalfe DMD 15, Amrita Patel DMD 15, Monica Schmidt DMD 17, and Garrett Wingrove DMD 17.
The ASDA Annual Session is a meeting place for student leaders from all US dental schools. The session includes meetings of the House of Delegates and elections of the ASDA national leaders. Prominent speakers within dentistry give talks on important topics, there is an exhibit fair to meet vendors and make contacts, and awards are given to recognize the achievements of individual chapters and their members.
BU ASDA chapter Treasurer Monica Schmidt said, "Attending the Annual Session gives students the opportunity to network and meet hundreds of dental students from across the country, but most importantly it offers the opportunity to realize that you are part of a bigger organization than just your individual ASDA chapter."
ASDA 2nd Year Class Representative Garrett Wingrove added, "We (ASDA) represent 19,000 students. These meetings really do change policies. This is a big governing body that helps make changes to licensing exams and things that really do affect all dental students and the dentistry profession. It really is a powerful group."
Schmidt continued, "It's a national organization that allows you to have a say in the profession of dentistry. Going to events like this makes you realize that, even as a student at a school, you have a voice that other people, such as legislators, want to hear. It's our way, as students, to get together and voice our opinion on how we want to be tested and how we want things done. In this way, we can have a unified voice, because your voice is heard so much louder when it's a thousand students as opposed to one or two."
The voice of ASDA Second Delegate and Vice President Mike Mayr was heard loud and clear when he put forward a resolution that incorporated the wording "LGBT and gender expression" into the ASDA bylaws. After going through committees, it was overwhelmingly voted in on the House floor. In fact, when Mayr presented the resolution on the House floor, he received support not only from those he approached with his resolution, but by several unsolicited supporters. About the resolution, Mayr said, "ASDA currently represents all students, but we haven't been explicitly recognizing the diversity within the organization, so I wanted to change that."
At the ASDA Gold Crown Awards ceremony, GSDM won three awards: Delegate of the Year for District 1 (awarded to Danielle Fernandez DMD 14); Quality of Newsletter Information for their student newsletter, Newsbite; and Outstanding Chapter Activities, which are constantly expanding and multiplying.
With these achievements under their belts and the next ASDA Annual Session scheduled for February 18–21, 2015, in Boston, the BU ASDA chapter members now have their sights set sky high. "We're pushing on all fronts to win the Ideal ASDA Chapter award in our home field of Boston in 2015," said Legislative Liaison Dave Lane. This is an award that looks for excellence in all facets of an individual chapter.
Vice Chair of the ASDA Dental Education Committee Matt Mara added, "Something that is memorable for all of us from the Annual Session is that it was the birthplace of our newest hashtag as an ASDA community: #idealboston2015."
As just one part of the ASDA drive to be crowned Ideal Chapter, members have developed a new website, where anyone can find more information about the BU ASDA chapter's executive committee, class representatives, numerous committees, and busy calendar.
Dean Jeffrey W. Hutter said, "I applaud Rushil, Sameet, Dave, Matt, Mike, Jessica, Amrita, Monica, and Garrett on their leadership and participation at the ASDA Annual Session." He continued, "I am proud of the strength and success of our Henry M. Goldman School of Dental Medicine chapter of ASDA."
Photos from the Annual Session are available on Facebook and Flickr.