AEGD and PGOE Residents Honored at Graduation Reception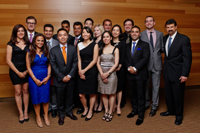 Clinical Professor and Director of the Dental Health Center and Advanced Education in General Dentistry Program Dr. John Ictech-Cassis and Professor and Chair of the Department of Restorative Sciences & Biomaterials Dr. Dan Nathanson hosted a graduation reception in honor of the 2014 graduates of the Advanced Specialty Education Program in General Dentistry (AEGD) and Post Graduate Operative and Esthetic Program (PGOE). The event was held at the Student Village on Saturday, June 21, 2014.
At the reception, Dr. Cassis said, "Your hard work, dedication, and enthusiasm have made you a great general dentist which has made all of us here very proud." Dr. Nathanson added, "I congratulate you for your accomplishments and I commend the faculty and staff for their dedication to both programs."
Immediate Past-President of the GSDM Alumni Association and Chair of the GSDM Alumni Board, Clinical Assistant Professor Tina Valades welcomed the new graduates to the Alumni Association, "You now join an extended family of GSDM alumni across the globe, and you can be assured that your fellow alumni and our entire School will continue to support you in your ongoing pursuit of excellence in our profession."
After dinner, Dr. Cassis announced the names of the graduates of the 2014 AEGD and PGOE programs. Graduates of the AEGD program include: Nicholas Baldelli, Gianluca Giorgini, Jae Ha Jung, Niloofar Khosravian, Rohan Kirtane, Parsia Koleini, Bohyun Lee, Fransheska Ovalles, Anya Pukhovitskaya, Danny Shum, Lindy Su, and Ahmed Zarrough.
Graduates of the PGOE program include: Ehab Alshouibi and Maha Linjawi.
Dr. Lindy Su received the AEGD Clinical Excellence Award, and Dr. Parsia Koleini received the AEGD Clinical Proficiency Award. Dr. Ehab Alshouibi received the Certificate of Outstanding Achievement & Clinical Proficiency in the Operative and Esthetic Dentistry Program.
AEGD Class Representative Parsia Koleini then spoke. He thanked the faculty and staff for their hard work throughout the year and said that his and his fellow residents' skills had greatly improved as a result of the faculty's dedication. He also spoke about how important each of the residents had become to him.
The graduates presented a slideshow of highlights from their days here at GSDM.
Photos are available on Facebook and Flickr.