2014 Paul Ambrose Scholar Matt Mara DMD 16 Seeks Stronger Interprofessional Ties to Enhance Community Health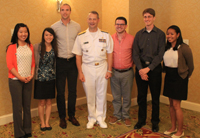 Matt Mara DMD 16 attended a Student Leadership Symposium in Washington, DC, June 20–22, 2014, as a 2014 Paul Ambrose Scholar with 39 other scholar students from a range of health professions. As a Paul Ambrose Scholar, Mara is developing and implementing a community-focused project that touches on some of the high-priority health issues in the U.S. population highlighted in the Healthy People 2020 Leading Health Indicators developed by the Department of Health & Human Service.
The Paul Ambrose Scholars Program is a collaborative initiative between the Association for Prevention Teaching and Research and the Office of Disease Prevention and Health Promotion. The program prepares public health and clinical health professions students to address population health challenges at the national and community level.
Mara described the Student Leadership Symposium as an "awesome experience." There, he networked with students from a spectrum of health professions, including allopathic medicine, graduate nursing, physician assistant programs, public health, osteopathic medicine, and pharmacy.
"There are so many different routes to creating a change in your future career; and you don't really realize this until you're with a group of people who have similar interests to you," said Mara. "It was really nice to talk to other students and make some really good friends."
The symposium agenda included talks from public health leaders relating to prevention, health policy advocacy, social determinants of health; mentored roundtables; interprofessional networking; and project planning and refinement.
A highlight of the symposium was a talk given by the Acting United States Surgeon General, Rear Admiral Boris D. Lushniak. Mara delivered the final question of the discussion session with Dr. Lushniak: He asked the Surgeon General what he had had for breakfast that morning. His answer: "wheat toast, eggs, and yogurt."
For his project as Paul Ambrose Scholar, Mara will be working to create a referral system between Boston Medical Center and the Boston University Henry M. Goldman School of Dental Medicine (GSDM) that links obstetric care, addiction counseling, and dentistry.
Inspiration for this project to help women have healthier pregnancies came from an elective Spectrum of Patient Advocacy course, when Dr. Michelle Sia, an obstetrician at Boston Medical Center (BMC), visited Mara's class to introduce Project RESPECT. It is an interdisciplinary treatment program involving high-risk obstetrical care, psychiatric evaluation and treatment, group counseling services, and individual support for addiction recovery and labor coaching via the Birth Sisters program. Mara saw immediately that adding oral health care to the services offered to these women would make their care truly comprehensive.
Mara points out that pregnancy presents many new oral health care challenges. For instance, hormonal changes put pregnant women at greater risk for gum disease. Oral health care practitioners can also give practical advice, such as how soon to brush after experiencing vomiting from morning sickness. "Everyone's initial instinct is to immediately brush your teeth," said Mara. "But really you should wait as long as 20 minutes because brushing with acid in your mouth can destroy enamel."
Mara does not intend for his project to end in a year, but become a sustainable link between some of the programs at BMC and GSDM.
"I'm hoping that more students will be involved in this kind of thing," said Mara. "It's a great opportunity to really expand outside of the mouth, which is where we spend a lot of time thinking. It's a valuable experience to be able to interact with other students from different professions."
Dean Jeffrey W. Hutter said, "Congratulations to Matt on his outstanding achievement." He continued, "I am always proud to see our students achieve national recognition. I strongly support Matt's goal of seeking robust interprofessional ties within our Medical Campus to make a positive impact on the overall health of our community."