Faculty & Staff Meeting Recognizes Outstanding Staff, Presents Overview of Key Initiatives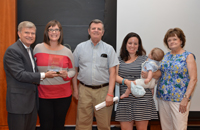 A meeting of the Boston University Henry M. Goldman School of Dental Medicine (GSDM) faculty and staff was held Monday, June 23, 2014, at the 670 Albany Street Auditorium. The meeting recognized outstanding staff members and provided a review of the School's recent accomplishments and updates on progress toward short and long term goals at GSDM.
Dean Jeffrey W. Hutter opened the meeting in the traditional way—by inviting each new member of the faculty and staff to introduce themselves. He then warmly welcomed all of them to the GSDM family.
Dean Hutter then recognized the winners of the newly implemented Student Staff Recognition Award: Mr. Craig Sisco, Supervisor in the Sterilization Department (nominated as a member of the pre-doctoral staff) and Ms. Nerline Grand-Pierre, Laboratory Supervisor in the Department of Molecular & Cell Biology (nominated as a member of the post-doctoral staff). Sisco and Grand-Pierre were nominated by students as staff members who have gone above and beyond in their work and who have greatly enriched the student experience.
Dean Hutter then presented the Kristen Donovan Award for Excellence in Service to its inaugural recipient, Ms. Molly Washburn, Administrative Coordinator in the Group Practice Model. Washburn was selected for the honor as a staff member employed by GSDM for less than five years, who has demonstrated outstanding commitment to the School and made an important impact on the community by working to fulfill the mission of the School.
The Kristen Donovan Award for Excellence in Service honors the memory of Senior Patient Coordinator Kristen Donovan, who sadly passed away on Thursday, May 29, 2012. Kristen's parents, Bob and June Donovan, her sister Kelli Mulcahy, and  her nephew Shane Mulcahy were present to help celebrate Kristen's legacy at GSDM and to congratulate the inaugural winner.
The staff and faculty then heard a special presentation on Title IX regarding the University's obligation and commitment to eliminating sexual misconduct on campus and building a campus-wide culture of respect and responsibility. This was presented by Kim Randall, Executive Director of Equal Opportunity and University Title IX Coordinator, and Dr. Joseph Calabrese, Assistant Dean of Students and GSDM Deputy Title IX Coordinator.
The following presentations provided the faculty and staff with progress on a number of key initiatives at GSDM:
an update on the GSDM Faculty Forum by Faculty Forum representatives Dr. Bradford Towne, Clinical Assistant Professor in the Department of Oral & Maxillofacial Surgery, and Dr. Eva Helmerhorst, Associate Professor in the Department of Molecular & Cell Biology;
a summary of  recent and future activities of the GSDM Staff Forum by Sarah Irias, Central Sterilization Manager and Staff Forum representative to the GSDM Executive Committee;
a breakdown of the metrics for GSDM Admissions for the 2013–2014 Academic Year from Assistant Dean of Admissions Catherine Sarkis;
a summary of the School's Academic Program Review by Associate Dean for Academic Affairs Dr. Cataldo Leone;
a brief update on the Implementation of the School's Applied Strategic Plan and new branding initiative by Dr. Margaret Errante, Assistant Dean for Business Development, and Mr. Gurjinder Gill, Project Manager for the Applied Strategic Plan;
an update on the implementation of the GSDM Group Practice Model from Director of the Group Practice Experience & Team Leadership Dr. David Russell;
a review of GSDM facilities projects by Executive Director of Finance & Operations Tim McDonough and Director of Facilities & Operations Andy Burke; and
an update on GSDM space programming, master planning, and plans for a new facility by  Dean Hutter.
In closing, Dean Hutter said, "I do hope tonight's presentations have demonstrated to you that we are well underway in achieving our  vision  for our School to become the premier academic dental institution promoting excellence in dental education, research, oral health care, and community service to improve the overall health of the global population." He stressed that the School's vision will continue to require a great deal of hard work and dedication from the faculty, staff, and students of GSDM, and he asked everyone to join him in expecting and planning for the very best for the School.