Schweitzer Fellows Celebrated at the Conclusion of Fellowship Year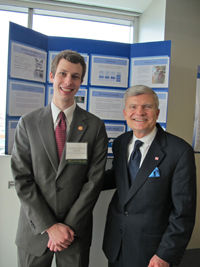 Schweitzer Fellow Andrew Soule-Hinds DMD 15 was honored along with other 2013-2014 Boston Fellows at a ceremony at Fenway Health Thursday, May 8, 2014. The program celebrated "the dedication and service of the 2013–2014 Boston Fellows and their commitment to underserved communities in Massachusetts," according to a Schweitzer Fellowship press release.
Soule-Hinds was featured in the April 30, 2013, issue of Outlook upon his selection as a Schweitzer Fellow. During his fellowship year, he sought to develop a relationship between GSDM and the non-profit Amirah to provide oral health care to survivors of human trafficking.