Passionate and Numerous Group of Teaching Assistants Honored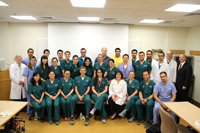 The list of fourth-year DMD students volunteering as teaching assistants (TAs) continued to grow this year and the large group was honored at a luncheon on Monday, April 14, 2014.
Students assisted in one or more of three classes: Pre-doctoral Endodontics, taught by Dr. Jason Zeim; Pre-doctoral Occlusion, taught by Dr. Mark Ferriero; and Pre-Clinical Removable Prosthodontics, taught by Dr. Ronni Schnell.
TAs in Dr. Ferriero's Pre-doctoral Occlusion course helped with supply distribution, attendance taking, and evaluation of the second-year DMD and first-year AS students' formative skills.
Dr. Ferriero described the TAs as passionate, committed, proactive, and hands on. He said, "My TAs were a great group, willing to educate, share, advise, and mentor their peers as they strive to comprehend the curriculum and lab/clinical skills associated therewith. During this process, the TAs themselves experienced a renewed edification of said curriculum as well as earning noteworthy CV/resume additions."
The students honored at the luncheon included: (Endo) Zaid F. Al-Bender, Dalal Jamal Alhajji, Sinan Ali Talib Alhamdi, Kathleen Mary Burnside, Kiyomi Cho, Ashley Marie Gomes, Jeremiah M. Granados, Gurshant Grewal, Homan H. Javaheri, Michelle Yuan-Ling Li, Richard Yeou Fu Liu, Samaneh Mojarrad, Jacqueline Ann St. Pierre, Eric M. Weinberg, and Alanna Irene Yip; (Occlusion) Jennifer M. Allen, Brittney C. Barrow, Robert Kevin Cauley, Jr., Therese Comeau, Erika Janelle Dean, Matthew William Dekow, Amir S. Fakhrzadeh, Sameet Gill, Lindzy Goodman, Benjamin Irzyk, Thomas Gregory Keeling, Dmitry G. Merzon, Jason Pan, Erica Ruth Weinberg, and Richard Edward Zavada; (Pros) Zaid F. Al-Bender, Kaveh Baharvand Ahmadi, Ella Botchevar Ziegler, Diana Michelle D'Aoust, Arsalan Elahi, Jeremiah M. Granados, Gregory James Hein, Kelsey Hill, Marc Bennett Horton, Michelle Yuan-Ling Li, Cameron Shahbazian, and Karina Vergara.
Photos are available on Facebook and Flickr.