Initiative Offering More Pediatric Experience Benefits Students and Community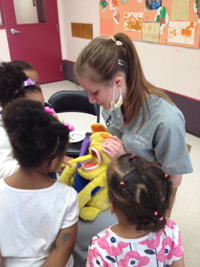 Since October, Global & Population Health (GPH) has been leading an initiative to offer Boston University Henry M. Goldman School of Dental Medicine (GSDM) students greater experience in pediatric dentistry. GPH has been giving third-year DMD and first-year AS students opportunities to treat children in some of the office's existing Preschool-Based Oral Health Programs that had been previously run by faculty only.
Oral Health Promotion Director Kathy Lituri has been accompanied by a GSDM student volunteer on seven visits to the Crispus Attucks Children's Center in Dorchester since October, where they provided dental screenings, fluoride varnish applications, and oral health education to children. In November, similar faculty-student teams made two visits to Nurtury (formerly Associated Early Care and Education Centers) at Sunnyside. They visited Nurtury at Castle Square three times in March and, in May, volunteers provided care over four visits at Nurtury's Ruggles/Gilday location. More visits like these are planned.
The following DMD 15 students have benefited from this supplemental experience in pediatric dentistry: Sonal Chhanabhai, Michelle Darocha, Adrian De Vincenzo, Siavash Sanajany Golaby, Chul Won Lee, Stephanie Leung, Linda Linsinbigler, Keely Matheson, Jessica Metcalf, Melissa Parsa, Amrita Patel, Andrew Pham, Sarah Procknik, Ramandeep Samra, Samita Sandhu, Sara Sarema, Cara Seidel, Kali Stewart, Isha Suri, and Anne Tran. Pre-dental students Shennel Howard and Jake Ward also volunteered.
Kathy Lituri said, "This is a great way for dental students to gain valuable pediatric experience." She continued, "It's also a wonderful opportunity for students to learn about oral health needs in the community."
"Thank you to the volunteers who gave their time to provide dental care to these children," said Dean Jeffrey W. Hutter. "I am very pleased to see this successful initiative provide more pediatric dentistry experience to our students while also contributing to better oral health in the community."