An Eye-opening Volunteer Experience in Panama for DMD 14 Students Roahen and Yip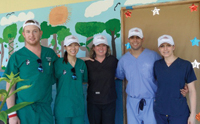 David Roahen DMD 14 and Alanna Yip DMD 14 traveled to Panama from January 17 to 24, 2014, on an externship to provide much needed oral health care to people in the town of Pedasí. The trip was organized by Northeast Volunteer Optometric Services to Humanity (NEVOSH), an organization which has expanded its original focus of providing vision care to those who cannot afford or obtain it to treat an array of health conditions in its Central America clinics. The team for this trip included GSDM 2010 alums Drs. Nick Barbosa, Karen Mele, and Christina Thompson DMD 06.
The group's first stop after the Panama City airport was the Presidential Palace of Panama, where they were guests of the First Lady of Panama, Mrs. Marta Linares de Martinelli. They were given a tour of the Presidential Palace by a member of the First Lady's staff.
The group then traveled to Pedasí, a fishing village with a population of approximately 2,000 people on Panama's Pacific coast. The team set up a clinic in a local school there where Roahen and Yip, together, were able to treat about 150 residents, providing screening, scalings, restorations, and extractions.
It was an eye-opening experience for both students. In Pedasí, Roahen treated pediatric patients for the first time. He was proud to report that he was able to transform a screaming, unhappy boy to a grinning boy from whom he'd swiftly extracted two primary teeth. "For my first time dealing with kids, having them reacting positively in such a strong manner really made me happy," said Roahen.
Yip was also surprised and impressed by how much dentistry could be accomplished with limited clinical resources. She said, "We were in the middle of nowhere and to be able to help so many was just great."
Roahen managed to find some time for snorkeling and spearfishing during the stay. He caught a parrot fish, which they barbecued and feasted on their final night in Pedasí.
Dean Jeffrey W. Hutter said, "I commend David and Alanna for their contribution to the oral health of this underserved population." He continued, "I am pleased to see our students joining up with alumni to create a positive impact on the world."
Photos are available on Facebook and Flickr.