Role Model Matt Mara DMD 16 Delivers Oral Health Education to Underserved in Mississippi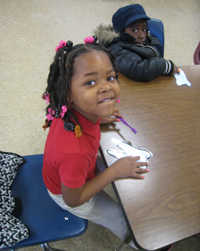 When Matt Mara DMD 16 had last been in the Hollandale School District of Hollandale, Mississippi, as a Teach For America Corps middle and high school science teacher in 2010, most of his students looked up to him both literally and figuratively. When Mara returned in January 2014, as a Boston University Henry M. Goldman School of Dental Medicine (GSDM) student, to deliver oral health care lessons and to conduct field research for his Intensive Research Elective Course (IREC), he found many of his former students towered over him—though they now have more reason than ever to look up.
Hollandale, Mississippi, with its fewer than 3,000 residents, lies in the midst of one of the poorest, most rural, and racially divided regions of the country. A drive of 45 minutes through vast expanses of farmland and open fields separates Hollandale from the nearest town. As a dental student, Mara had not forgotten the great need for better oral health education and care in Hollandale. He believes that patient education can play a critical role in the prevention of disease for the area's children.
Mara returned to this rural school district with multiple goals in sight, but the foremost aim was to offer his success and passion as a dental student as a genuine model for the students to follow. As Mara put it, "I wanted to show the students that, even though I left, my heart hadn't left." He continued, "As you teach them to follow their dreams, you need to show them that you've followed yours."
The research and academic portion of Mara's trip included presenting oral health care lessons at Sanders Elementary School. Watch Mara make brushing fun:
Mara's IREC research project, which stems from a project he began during his Applied Professional Experience (APEX) rotation, looks at modeling more effective assessments to lesson plans used in academic based service learning. This goes beyond identifying and targeting disparities in oral health and works to ensure that what instructors are teaching in the classroom is effective and age appropriate. He accomplishes this by measuring both pre- and post-test survey data. Mara hopes that this knowledge can be used by first year dental students when they work with children in the Boston City schools.
Aside from the data Mara collected on his trip, he had at least one first-hand account that his lesson had been effective. Ms. Otis, an English teacher with whom Mara had worked closely as a Teach For America instructor and whose daughter he had given an oral health lesson approached him to say, "Mr. Mara, I just want to tell you that my daughter will not stop brushing her teeth. With that toothbrush from her friend in Boston—I cannot believe—she just keeps brushin', brushin', brushin'."
Associate Dean for Global & Population Health Dr. Michelle Henshaw has served as Mara's mentor for the project. Mara expressed his gratitude to Dr. Henshaw and the Office of Global & Population Health for supporting his research project and helping him to transform his passion into scientific results. He also expressed thanks for the support and assistance of Oral Health Promotion Director Kathy Lituri and the Research office.
Dean Jeffrey W. Hutter said, "I commend Matt on his commitment to improving the health of underserved communities and for his dedication to both teaching and research." He continued, "Matt's passion for service is a quality we strive to instill in every member of the Henry M. Goldman School of Dental Medicine community."
Mara will present his results as a poster at the John McCahan Medical Campus Education Day on May 22 and hopes to carry through the research through the next year and potentially into his career as a dental educator as he continues with his passion for teaching.
Photos from the trip are available on Facebook and Flickr. Also view this video created by Mara about his trip to Hollandale.